Vietnam's pharmaceutical stocks benefit from coronavirus outbreak
Thursday |

02/06/2020 14:27
---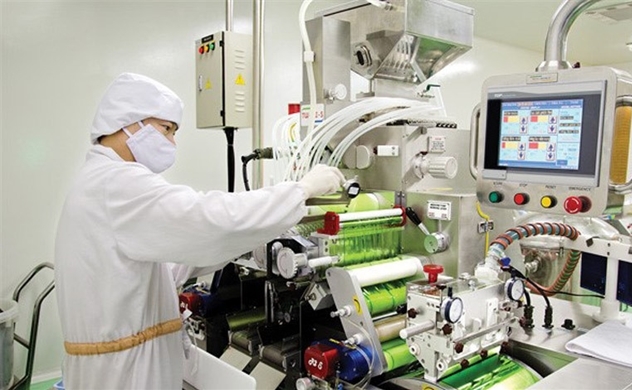 Photo: Vietnamnet.vn
Pharmaceutical stocks are experiencing an upsurge as fears of coronavirus have boosted demand for healthcare products and services, lifting demand for shares.
Despite the benchmark VN-Index fell by some 6.4 percent, the pharmaceutical industry is witnessing stock prices rising sharply.
This goes in reverse to last year's situation, when pharmaceutical stocks were less concerned with low liquidity and stock prices moved sideways or decreased amid the sector's slowing growth.
Shares of Hau Giang Pharmaceutical Joint Stock Company (HoSE: DHG) reached its six-month high of $4.4 per share on Monday. Since the spread of the disease in early January, DHG has surged nearly 20 percent.
The company, one of the largest pharmaceutical firms in Vietnam manufacturing and selling over-the-counter medicines, reported profit of VND631 billion in 2019, down 3 per cent year-on-year, mainly due to the four-year low recorded in the third quarter.
DHG did not complete last year's business plan as it fulfilled only 99 per cent of the annual revenue plan and 95 per cent of the annual profit plan.
At the end of April last year, DHG became a subsidiary of Japan's Taisho Pharmaceutical Co Ltd after the Japanese drug maker acquired an additional 20.6 million shares of DHG, lifting its stake to 50.78 per cent.
M&A is gradually becoming popular in the pharmaceutical industry. According to SSI Research, in May 2019, Kimia Pharma, an Indonesian state-owned pharmaceutical company, revealed that it was considering acquiring one of Vietnam's leading pharmaceutical retail chains. Foreign pharmaceutical companies aim at M&A to take advantage of available resources, reducing costs and shortening the time to enter Vietnam's market.
Another pharmaceutical producer Traphaco JSC, reported a drop of 2.4 percent in last year's profit, to VND171 billion, completing the yearly plan. The company's revenue reached VND1.7 trillion, equal to 92 per cent of the yearly target.
In contrast, businesses operating in the ethical or prescription drugs (ETC) channel, performed more efficiently last year.
Imexpharm Pharmaceutical (IMP) reported profit of VND162 billion, representing a record rise of 17.1 per cent year-on-year. Benefiting from the spread of the coronavirus, IMP shares hit its one-year peak of VND56,000 pershare on Monday, up by 16 percent since early January.
Pymepharco Pharmaceutical (PME) reported an increase of 4 per cent in profit and a rise of 10 per cent in revenue last year. The company fulfilled 97 per cent of the revenue plan and completed 100 per cent of the profit plan set for the year.
Regarding Vietnam Pharmaceutical Corporation (DVN), revenue decreased by 4.3 per cent to VND5.7 trillion. Profit increased by 7.3 percent to VND221 billion, mainly due to cost reduction.
A generic drug is a pharmaceutical drug that contains the same chemical substance as a drug that was originally protected by chemical patents. Generic drugs are allowed for sale after the patents on the original drugs expire.
They work the same as original medicines but is sold at lower prices because the drug manufacturer does not have to duplicate the original clinical trials for effectiveness and safety, which lowers the cost to bring the drug to market. Generics are not less expensive because they are lower in quality.
Another factor that promotes ETC growth is the increase in the percentage of people covered by insurance in Viet Nam, which rose from 28 per cent to 90 per cent between 2005 and 2019.
The consumption of drugs via ETC channel has also slowed because the list of active ingredients allowed to be circulated without prescription is reduced from 250 to 243 and the trading of antibiotics in retail has been tightened to minimise antibiotic resistance.
This year, SSI Research forecasts the pharmaceutical market will grow by 9-10 per cent thanks to population growth and increasing healthcare demand.
The growth motivation for the pharmaceutical industry also originates from rapid urbanisation, which promotes the development of the middle class as well as average income per capita.
According to the Viet Nam Drug Administration (DAV), the size of the pharmaceutical industry is forecast to reach $7.7 billion by 2021.
Source: Bizhub
Latest news
Reuters | Alexandra Alper, Humeyra Pamuk