Vietnam's Nov. trade surplus plunges to $600 million from $2.9 bln in Oct.
Van Dat
Monday |

11/30/2020 12:03
---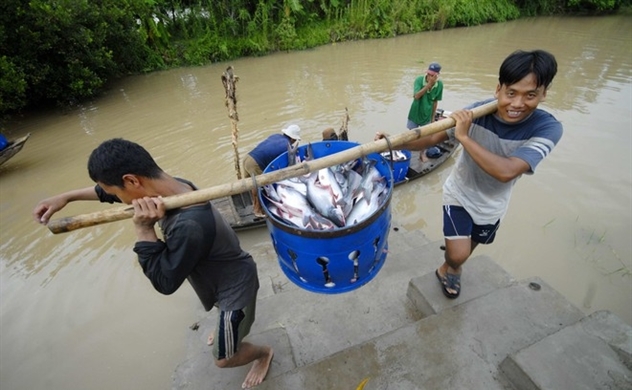 Vietnam expects 2020 seafood export to reach $8.4 billion. Photo: Thanh Nien
Trade surplus in November plunged to $600 million from a $2.9 billion surplus in October, according to data from General Statistics Office.
Export turnover in the reported month was expected to rise 8.8 percent from a year ago to $24.8 billion, while imports grew 13.4 percent to $24.2 billion.
In November, domestic trade increased by 2.3 percent from October and by 8.5 percent from a year earlier. Retail sales of goods reached a high rate of 13.2 percent. Transportation increased by 2.3 percent in terms of passengers carried and 5.3 percent in cargo carried over the previous month.
Despite Covid-19 pandemic, in the 11-month period, the economy's trade surplus widened to $20.09 billion from $10.8 billion surplus of the same period of 2019. Of the amount, domestic sector suffered a trade deficit of $12,4 billion while foreign sector saw a surplus of $32.5 billion, including crude oil.
In the period, exports likely rose 5.3 percent year-on-year to $254.59 billion, while imports increased 1.5 percent to $234.50 billion.
There were 31 items with an export turnover of over $1 billion, accounting for 92 percent of the total export turnover, including 6 items with export revenue of $10 billion.
Vietnam's industrial output in November rose 9.2 percent from a year earlier. Industrial output in the January-November period rose 3.1 percent year on year, Reuters cited GSO data.
CPI in November rose 1.48 percent from a year ago and was down 0.01 percent from October. Average consumer prices in the first 11 months of this year rose 3.51 percent from the same period last year.