Vietnam's foreign investment attraction plunges 15.1% in 6 months
Dat Van Luu
Friday |

06/26/2020 22:48
---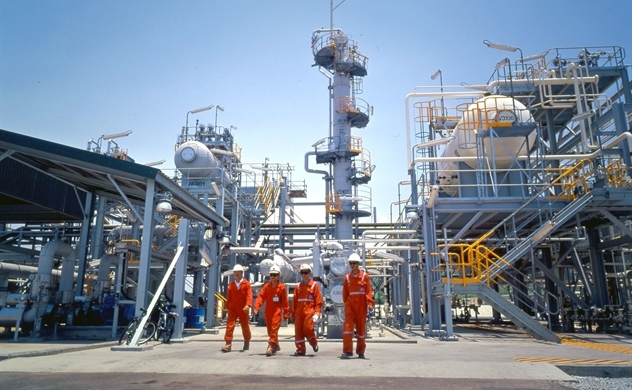 A foreign-invested oil refinery in Vung Tau. Photo: k-ttd.com
Vietnam has attracted foreign investment of $15.67 billion as of June 20, witnessing a year-on-year decline of 15.1 percent, according to latest data from Ministry of Planning and Investment on Friday.
Specifically, the country licensed 1,418 foreign direct investment projects with total registered capital of $8.44 billion, and saw 526 operational FDI projects raise their capital by $3.7 billion, up 26.8 percent from a year ago.  
The adjusted investment capital increased after an oil refinery project in Ba Ria – Vung Tau registered to add $1.36 billion.  
Disbursed FDI in the six-month period was reported at $8.65 billion, down 4.9% from a year earlier.
The $4-billion power project in Mekong Delta's Bac Lieu help saving the total FDI attraction in the six-month period, when the COVID-19 pandemic severely hit the global economy.
Between January and June, foreign investors also spent $3.51 billion buying shares or contributing capital to Vietnamese firms, down nearly 57 percent in term of value.
Among the foreign capital, 51.1 percent were poured into the processing and manufacturing sector, 25.2 percent into power generation, according to the agency.
Singapore became Vietnam's biggest investor in the six-month period with $5.44 billion, making up 34.7 percent of total investment, followed by Thailand and China with $1.58 billion.
During the reported period, the FDI had a trade surplus of $14.2 billion including crude oil, offsetting the trade deficit of nearly $10.2 billion of the domestic sector, resulting the country's overall $4 billion trade surplus.
Export turnover of the FDI sector decreased 6.7 percent to $79.8 billion while import was $65.6 billion, equaling 94.6% as compared to the same period in 2019.
► Vietnam's 2020 output projected to grow 2.7%, among the highest in the world: IMF
Same category news
Latest news
Reuters | Alexandra Alper, Humeyra Pamuk