Vietnam to boost fisheries exports to $9bln in 2020
Xuan Thinh
Monday |

09/07/2020 12:42
---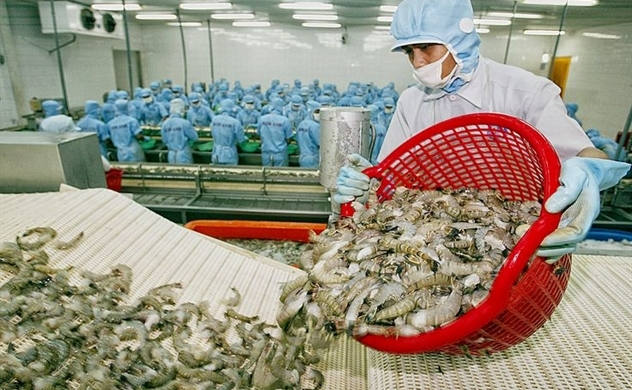 Photo: Vietnamexport.com
Vietnam is trying to reverse a decline in fisheries shipments, one of its biggest dollar earners, to keep economic growth despite the coronavirus pandemic.
The country's agricultural sector is deploying measures to not only stop the decline but also increase fisheries exports to about $9 billion in 2020, Tran Dinh Luan, general director of the agriculture ministry's fisheries department, was cited by Bloomberg.
Latest data from the Import and Export Department under the Ministry of Industry and Trade shows that, Jan.-Aug. seafood exports was estimated at $5.19 billion, down 5.64 percent from the same period of 2019.
In August, seafood exports was seen at $800 million, down 2.1 percent year-on-year.  
Local experts forecast that seafood export value in 2020 may reach $8.26-$8.3 billion, down 3.8% compared to 2019 due the pandemic and fierce competition with India and Ecuador.
The United States, Japan, China and South Korea are still four biggest importer of Vietnamese seafood in the first 7 months of 2020, accounting for 60% of the total seafood export value.
In 2019, Vietnam shipped $8.6 billion of fisheries products. The year-to-date drop has narrowed from an 8.6% contraction in the first half, with shipments beginning to revive in July and August, Luan said.
Export-reliant Vietnam is trying to maintain growth, with Prime Minister Nguyen Xuan Phuc last week urging ministries and provinces to boost their efforts to prevent a contraction. The government forecasts gross domestic product growth of 2.4% this year, the slowest in two decades, after a 0.36% expansion in the second quarter.
The agriculture ministry aims to increase 2020 farm exports to more than $41 billion, from about $40 billion last year, Luan was cited by Bloomberg. Vietnam expects to pass Thailand this year to become the world's second-largest rice exporter, he said.
► Vietnam's 2020 economic growth expected at 2-2.5% despite virus