Vietnam targets 2022 economic growth at 6-6.5 percent
Xuan Thinh
Wednesday |

10/20/2021 13:20
---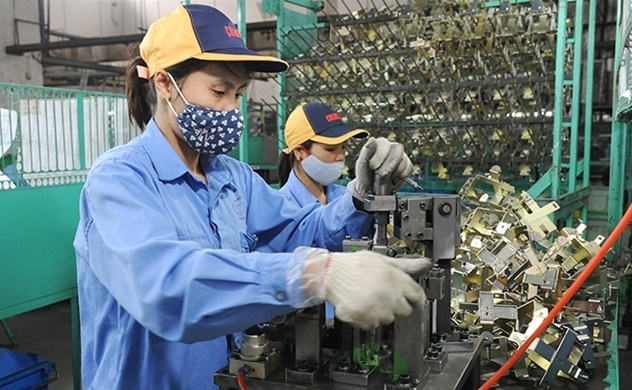 Photo: Nhan Dan
The growth rate of gross domestic product was expected at about 6-6.5% in 2022, Prime Minister Pham Minh Chinh told legislators during the National Assembly meeting starting on Wednesday morning in Hanoi.
The average growth rate of consumer price index for next year was targeted at about 4%, while State budget deficit should remain at over 4 percent of overall GDP, said the Vietnamese premier.
The Government also proposed 12 key tasks and solutions to realize economic development and pandemic control goal by making good use of opportunities to promote socio-economic recovery and development.
The Government will continue to stabilize the macro-economy, control inflation, improve the autonomy, resilience and adaptability of the economy.
In the first months of 2020, 4 out of 12 major socio-economic targets have not reached the set targets due to pandemic. Economic growth in the first 6 months of the year reached 5.64 percent. In the third quarter, GDP contracted by 6.17% due to the serious impact of the fourth pandemic outbreak.
The country recorded 9-month GDP growth at 1.42 percent. The macroeconomy has potential risks while inflation pressure increases. Exports decelerated. There has been a breakdown in some production, supply and labor chains, according to the Government report.
During the second session of the 15th National Assembly scheduled to last 17 days, the legislators are expected to adopt two laws, namely Law to amend a number of articles of the Law on Statistics and Law to amend a number of articles of the Criminal Procedure Code; four resolutions, namely Resolution on the organization of online court hearings, Resolutions on a number of specific mechanisms and policies for the development of Hai Phong city and provinces of Nghe An, Thua Thien-Hue, and Thanh Hoa.
The lawmakers will review the Law on Mobile Police, Law on Cinema (revised), Law on Insurance Business (revised), Law on Emulation and Commendation (revised), Law to amend a number of articles of the Law on Intellectual Property.
They will also discuss and decide on national land use planning for the period of 2021-2030 and vision to 2050, five-year land use plan for 2021-2025, and economic restructuring plan for the period of 2021-2025; review reports on the implementation of social insurance policies, regimes, management and use of social insurance fund in 2020; management and use of the health insurance fund in 2020 and the implementation of Resolution No. 68/2013/QH13 on accelerating the implementation of policies on health insurance.