Vietnam reports Jan.-May trade surplus at $3.5 billion despite pandemic
Luu Van Dat
Thursday |

06/11/2020 13:48
---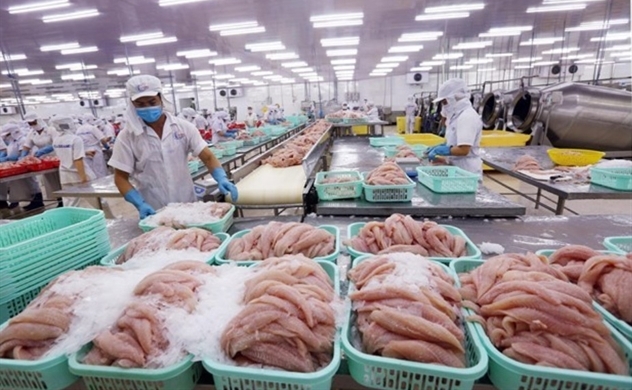 Foreign-invested firms enjoyed a trade surplus of $10.9 billion in a total trade revenue of $120 billion. Photo: Vietnamnet.vn
Trade surplus in the first five months of 2020 was reported at $3.5 billion despite impacts from COVID-19 pandemic, according to the latest data from the General Customs Office.
The surplus was much higher than the earlier report from the General Statistics Office which said the period trade surplus was at $1.9 billion.
The country's trade turnover reached $196.84 billion in the period, down 2.8% year-on-year, customs, of which its export value was reported at $100.2 billion, down 0.9% and import revenue was at $96.6 billion, down 4.6% from a year ago.
In May, the economy recorded a trade surplus of $1 billion in a total import-export revenue at $37.2 billion, of which its export value is at $19.1 billion and imports are estimated at $18.1 billion.
Foreign-invested firms enjoyed a trade surplus of $10.9 billion in a total trade revenue of $120 billion.
Domestic companies' exports were estimated to have expanded 10.4% year-on-year to $33.3 billion during the period, accounting for 33.5% of the country's exports. Meanwhile, FDI firms reaped $66.06 billion from overseas shipments, down 6.9%, and accounting for 66.5% of the total.
Among Vietnam's key export products, phones and parts are predicted to earn the largest export turnover during the January-May period at $18.3 billion, down 7.1% year-on-year.
Electronic products, computers, and components bagged $15.3 billion, up 23.6% year-on-year while garments earned $10.5 billion, down 14%.
In the five-month period, the US remained Vietnam's biggest export market. It spent over $25 billion on Vietnamese goods. While Vietnam imported $6 billion from trade partner, leaving a trade surplus for Vietnam at $19 billion.
Meanwhile, China continued to be Vietnam's largest supplier which exported $28.3 billion worth of goods to Vietnam and imported $15.9 billion from Vietnam. Vietnam suffered $12.4 billion trade deficit with China during the period.
► EU – Vietnam Free Trade Agreement expected to take effect on August 1
► Vietnam may surpass Thailand in global rice export in 2020
► Vietnam plans to export 7mln tonnes rice this year, up nearly 10%