Vietnam posts 1.81 percent GDP growth in six months, ten-year low
Dat Van Luu
Monday |

06/29/2020 09:57
---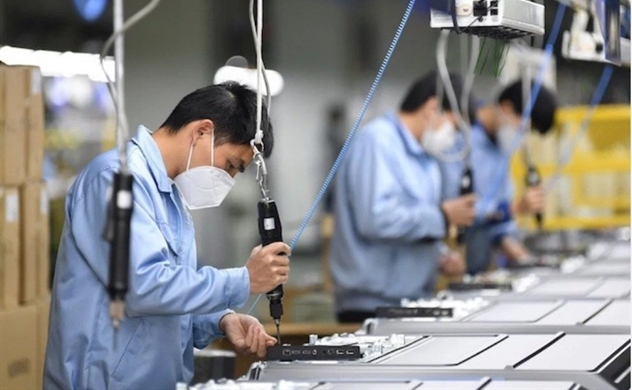 Vietnam reports economic growth at 0.36 percent in second quarter. Photo: VOV
Vietnam's gross domestic product (GDP) grew 1.81 percent in the first half of this year, the lowest growth rate since 2011, according to data released on Monday by the General Statistics Office.
In second quarter, the country economic growth was recorded at 0.36 percent, much lower than 3.68 percent reported in the first quarter.
Earlier, Bloomberg survey of economists showed that Vietnam's second quarter GDP to shrink 0.9% on pandemic. 
Vietnam's economy grew much slower than previous years due to the COVID-19 pandemic and on-going trade war between the two largest economies – the US and China, which disrupted the global supply chain, GSO said.
Major economies such as the United States, Japan and the EU are facing the deepest economic recession in decades and global trade continue to decline.
The 1.81 percent growth was fueled 2.98 percent growth of the industry and construction contributing 73.14% while the service sector which increased by 0.57%, contributing 14.97%. The processing and manufacturing sector remained the pillar of GDP growth, posting a growth of 4.96 percent.

Regarding the structure of the economy, the agriculture, forestry and fishery contributed for 14.16%; industry and construction contributed 33.44% while service sector accounts for 42.04%.
Despite the modest economic achievement, Vietnam's economy remain the position as one of the fastest-growing economies in the world. Most of major global economies were predicted to face contraction this year due to crisis.  
The country aims for an economic growth of 5% this year while the International Monetary Fund, which announced that it's expecting Vietnam's gross domestic product to grow 2.7% in June report. The organization had the same forecast in its April report.
The forecast growth rate, however, is in stark contrast with the 7% expansion of 2019 of Vietnam.
The Vietnamese government wants its economy to benefit from the successful fight against the coronavirus and the on-going trade war that stimulate production shift out of China.
As of Monday, Vietnam has recorded 355 COVID-19 infections and no death. Of the patient tally, 330 have been cleared of the virus, making up 93%, the National Steering Committee for COVID-19 Prevention and Control said.
The country has gone 74 days without a community transmission of COVID-19.
Vietnam won praised globally since it was able to contain the virus by acting quickly and decisively. The governmoent decided to close schools, shut down borders and suspend international travel much earlier than other nations.
► Vietnam's 2020 output projected to grow 2.7%, among the highest in the world: IMF