Vietnam enjoys the fastest growth in Southeast Asia, up 4.1% in 2020, ADB says
Luu Van Dat
Thursday |

06/18/2020 16:50
---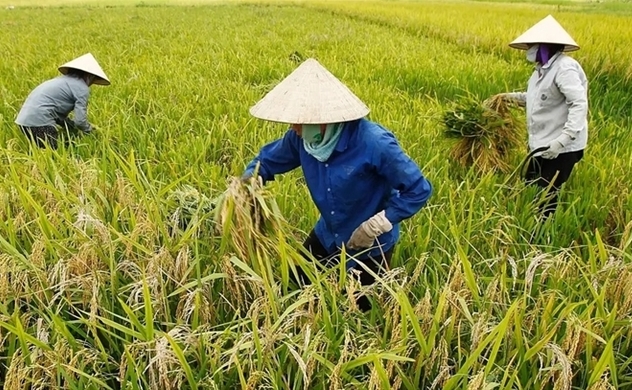 Farmers harvest rice at a paddy field in Mai Lam village, outside Hanoi. Photo by Reuters/Kham.
Vietnam's economy is projected to grow 4.1% this year while economies in the region could face contraction between 0.5% to 6.5% due to impacts from COVID-19 pandemic, Asian Development Bank reported.
Asian countries will barely grow in 2020 as containment measures to address the coronavirus disease pandemic hamper economic activity and weaken external demand, the bank said.
The economy of Southeast Asia is expected to contract by 2.7% this year before growing by 5.2% in 2021. Contractions are forecast in key economies as containment measures affect domestic consumption and investment, including Indonesia (-1.0%), the Philippines (-3.8%), and Thailand (-6.5%).
Vietnam is forecast to grow 4.1% in 2020, the fastest growth expected in Southeast Asia.
Situation is forecast to be much better in 2021, when Vietnam's economy is seen to grow 6.8%, the highest growth rate among ASEAN countries. Inflation rate is expected at 3% in 2020 and 3.5% in 2021.
Excluding the newly industrialized economies of Hong Kong, China; the Republic of Korea; Singapore; and Taiwan, China, developing Asia is forecast to grow 0.4% this year and 6.6% in 2021.
"Economies in Asia and the Pacific will continue to feel the blow of the COVID-19 pandemic this year even as lockdowns are slowly eased and select economic activities restart in a 'new normal' scenario," said ADB Chief Economist Yasuyuki Sawada, adding "while we see a higher growth outlook for the region in 2021, this is mainly due to weak numbers this year, and this will not be a V-shaped recovery. Governments should undertake policy measures to reduce the negative impact of COVID-19 and ensure that no further waves of outbreaks occur."
Inflation for developing Asia is forecast at 2.9% in 2020, down from a forecast of 3.2% in April, reflecting depressed demand and lower oil prices. In 2021, inflation is expected to ease to 2.4%.
► PM Phuc says Vietnam's 2020 economic growth could slow to 4-5%
► Vietnam slashes 2020 economic growth target to 4.5% on virus pressure
► Vietnam may surpass Thailand in global rice export in 2020