Vietnam does not manipulate currency for stronger trade competitiveness, PM says
Xuan Thinh
Monday |

10/26/2020 15:46
---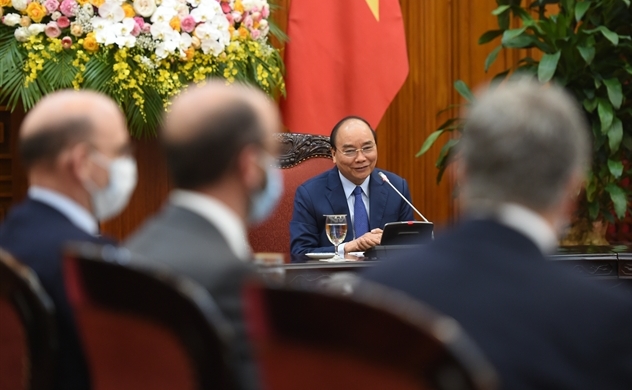 "If the Vietnam dong is devalued, it will seriously hurt the stability of the macroeconomy and the confidence of people and investors," PM Phuc says. Photo: VGP / Quang Hieu
Vietnam does not aim using exchange rates and monetary policy to facilitate export, Prime Minister Nguyen Xuan Phuc told US high-ranking officials during Monday meeting in Hanoi.
The Vietnamese premier made the statement after the US government announced to open a trade investigation into Vietnam's currency policy to determine whether an undervalued dong hurts American businesses.
At the meeting with the high-level US delegation led by Adam Boehler, director general of US International Development Finance Corporation, PM Phuc stated that Vietnam's exchange rate policy is not intended to create international commercial advantage or support any manufacturing industry, according to a posting on Vietnam Government Portal.
"If the Vietnam dong is devalued, it will seriously hurt the stability of the macroeconomy and the confidence of people and investors," PM Phuc said, adding Vietnam always sees the US one of its most important partners and wishes to continue developing a comprehensive partnership with the States.
Since the two countries restored relationship since 1995, bilateral trade has increased more than 170 times. US exports to Vietnam have reached the highest growth rate among Southeast Asian partners.
In terms of investment, several American enterprises are investing and doing business successfully in Vietnam. Currently, the US is among the 10 biggest investors in Vietnam, according to the posting.
PM Phuc encouraged US enterprises to strengthen investment in Vietnam in the context of supply chain shift in the region.
Regarding monetary policy, the Vietnamese premier affirmed that Vietnam aims to maintain financial stability, prevent shocks and limit external impacts through flexible management of monetary policy.
The State Bank of Vietnam operates the exchange rate policy within the framework of a general monetary policy to maintain macroeconomic stability.
The Prime Minister asked DFC director general to convey his message to President Donald Trump and the Trade Representative Agency that Vietnam wishes to implement the plan for trade balance agreed at the end of 2019.
PM Phuc also asked DFC and Vietnamese agencies to determine investment opportunities in potential projects in infrastructure, energy, projects with high technology in Vietnam.
► US administration to announce currency probe on Vietnam, Bloomberg says
Same category news
Latest news
Reuters | Alexandra Alper, Humeyra Pamuk