Vietnam becomes fourth most important market for Taiwanese investors
VOV
Wednesday |

01/20/2021 13:27
---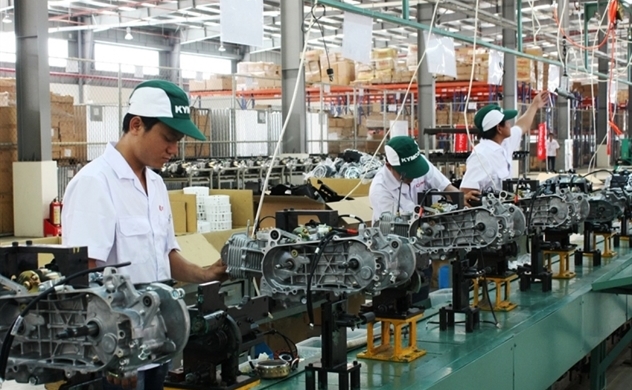 Vietnam is rated by Taiwanese businesses as having great potential for development prospects (Photo:baodautu.vn)
Vietnam was rated by businesses from Taiwan (China) as having great potential for development prospects, with the country's importance increasing from 18% in 2018 to 24% by the end of 2020.
This assessment was given at a recent seminar held by PwC Taiwan, a member firm of the PwC Global Alliance in Taiwan (China), aimed at analysing and discussing the digital transformation strategy of the six leading ASEAN countries, including Vietnam.
Despite hundreds of Taiwanese investors being unable to enter the country to survey and invest in new projects due to the nation's entry suspension, foreign direct investment (FDI) capital from Taiwan (China) continued to pour into the country last year, with an increase of 53%.
Of which, there were many major projects in the electronics sector, such as Pegatron project in Hai Phong worth US$485 million, in addition to the Wistron project in the northern province of Ha Nam valued at approximately $300 million.
In the context the ongoing US-China trade war and potential risks, Taiwanese businesses all recognise and evaluate the country as a crucial link in Southeast Asia in terms of supply chain shifts, with a particular focus on the electronics and telecommunications sector.
Hundreds of industrial parks with attractive incentives are gradually transforming northern Vietnamese provinces into technology production ecosystems, while southern provinces still prove to be attractive for Taiwanese investors. This is the case in traditional fields such as fiber, garments and textiles, footwear, mechanics, and wood processing.
Vietnamese digital transformation promotion attracts greater investment
PwC Taiwan said that the digital transformation being promoted by the Vietnamese Government will almost be a free "incentive" policy aimed at all foreign investors in the nation. This is due to digital transformation not only boosting production and business efficiency nationwide, but also helping to reduce production costs faced by firms.
Furthermore, Vietnamese economic development indicators in 2020 were highly impressive. In addition, the market and its population of roughly 100 million people, the majority of whom are young consumers enjoying rapidly increasing incomes, will prove to be very attractive to Taiwanese businesses in the domestic consumption sector.
Taiwan (China) has so far opened branches of more than 10 banks throughout Vietnam, with the consumer payment field making use of electronic payment applications as a means of promoting future development. This is also part of digital transformation in order to develop a transparent and competitive payment environment in the country.
Due to these factors, there remains ample room for domestic and foreign banks to exploit e-commerce, especially in the context that per capita Vietnamese income is forecast to increase by between 6% and 10% annually throughout the 2021 to 2025 period.
Challenges remain ahead
According to Taiwanese digital economists, Vietnamese digital transformation is set to encounter some difficulties, with three main bottlenecks, including human resources, applied technology platforms, and the gap between large and small and medium sized enterprises. These are similar to the issues Taiwan (China) has been working hard to solve in recent years.
Despite these challenges, the implementation of commitments from many new generation free trade agreements (FTAs) will serve as a tool to prompt Vietnamese enterprises to conduct digital transformation more strongly in order to meet strict requirements set by development partners such as the EU and Japan.
Moreover, these FTAs also represent the driving force for enterprises with high technology and new technology to invest in the nation to promote production and business. According to the latest data released by the Ministry of Economic Affairs of Taiwan in 2020, the nation was among the top five countries and territories that Taiwanese enterprises invest in, after Hungary, Hong Kong (China), and the US.
In terms of the ASEAN region, Taiwanese investment in the country cumulatively accounts for roughly 55%, far exceeding second place which is Indonesia, making up about 23%.
The Ministry of Economic Affairs of Taiwan indicated that if the Vietnamese Government considers loosening permission for Taiwanese businessmen and investors to enter the nation to survey for investment in 2021, the number of new investment projects will increase above the level recorded last year.
Source: VOV
Same category news
Hot news of the day