Europe "greening" the FDI into Vietnam
Van Dat
Monday |

11/21/2022 08:30
---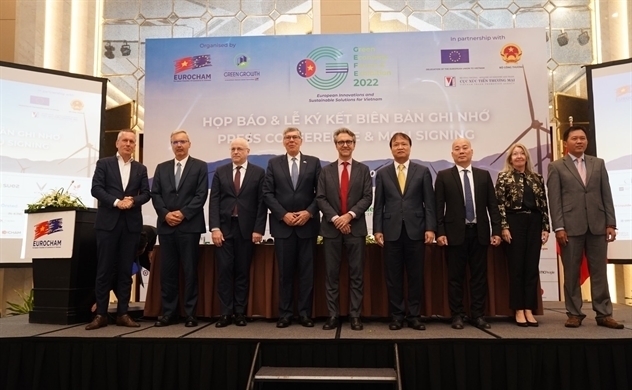 Photo credit: EuroCham
Green FDI inflows into Vietnam are being implemented step by step, with pioneering steps by European businesses.
The amount of green bonds issued globally in 2022 is about $1,350 billion, a record-high number. According to the ESG Solutions report of the credit rating agency Moody's, just five years ago, this figure did not exceed $200 billion.
The global business world is paying special attention to sustainable development. Europe is the largest issuer of green bonds. In 2021, corporate bonds in the "old continent" account for 56% of the total value of bonds issued globally.
The wave of transition to a green economy does not stop in Europe. Asia is also investing heavily in green growth, with green bonds in the region accounting for 22% of global issuance in 2021.
Opportunities from Vietnam's Net Zero commitment
Vietnam's commitment to net zero emissions by 2050 by Prime Minister Pham Minh Chinh in Glasgow has set the stage for a series of sweeping policy initiatives on sustainable development and has received enthusiastic support from the government. European investors.
Following the commitments of the Prime Minister of Vietnam at COP 26, the National Strategy for Growth in the 2021-2030 period with a vision to 2050 was approved with objectives such as reducing the intensity of greenhouse gas emissions in the world. GDP, greening economic sectors, greening lifestyles and sustainable consumption.
However, public policy on green growth is not enough to address long-term sustainability challenges as a whole. Establishing and maintaining complex energy infrastructure requires the mobilization of capital, technology and human resources.
EuroCham and the European business community want to participate and play an important role in the Vietnamese government's plan, said Mr. Alain Cany, Chairman of the European Chamber of Commerce in Vietnam (EuroCham), who witnessed the commitment. COP26 conclusion of Prime Minister Pham Minh Chinh in Glasgow, said.
After the Government made a commitment to reduce net emissions to zero by 2050, there have been many new high-quality and sustainable FDI projects choosing Vietnam as a destination that promises to create a "wave of "New investment changes the economy. According to foreign investors, the macroeconomic background is stable, so the new FDI inflows are in the "green" direction, serving sustainable development, strongly directed to Vietnam.
Recently, LEGO Group officially started construction of a factory worth more than 1 billion USD in Binh Duong. This event is an affirmation of the trend of "greening" foreign investment flows in Vietnam. The project is an important milestone for Vietnam's efforts to attract green FDI. This is not the only project contributing to the trend of "greening" FDI inflows here.
Not long ago, another Danish company, Pandora, decided to invest in a $100 million project in Vietnam. Pandora is expected to use 100% renewable energy, creating more than 6,000 jobs.
Many corporations from Austria, Denmark and Norway are also making similar moves. In May, Equinor, Norway's largest energy company, opened an office in Hanoi expecting promising opportunities from the energy transition here.
"With a policy to encourage sustainable growth, Vietnam can be ahead of many other countries in the region," said Mr. Alain Cany.
EuroCham is implementing an investment promotion program, bringing about 300 European businesses in green economic fields to Vietnam for investment research. With policies to encourage sustainable growth.
Experience from Europe
Creating a premise to promote green growth in Vietnam, representing more than 1,200 businesses with deep expertise in the field of green growth, EuroCham will organize a 3-day conference and exhibition from November 28 to 30 in Hanoi. Ho Chi Minh City.
According to EuroCham, the 2022 Green Economy Forum & Exhibition (GEFE 2022) at THISO SkyHall, Thu Duc City, will facilitate the promotion of sustainable development by transferring technology, capital and knowledge from Europe to Vietnamese enterprises. This move strongly reflects and reinforces EU investment trends in Vietnam and EuroCham's vision for sustainable development.
The main objective of GEFE 2022 is to assist Vietnam in achieving its COP26 commitments and fulfilling the socio-economic development goals outlined in the National Green Growth Strategy 2021-2030.
Although the Vietnamese government and businesses are at the forefront of the green transition, European businesses are here to mobilize capital and provide green technology, said Mr. Alain Cany.
European businesses and policymakers have deep expertise in green, sustainable industries and renewable energy development. Creating a cooperative relationship between them with the Vietnamese government and businesses is ideal, Mr. Alain Cany added.
"Vietnam has a lot of potential in the solar and wind energy sectors. European companies with the right expertise and technology can tap into this potential. And Vietnam can greatly benefit from it. expertise and cutting-edge technology that European policymakers have built up over decades."
According to EuroCham, GEFE 2022 will have three conferences on green energy and finance on November 28, waste and sustainability on November 29, and innovation and entrepreneurship on November 30. Green will be discussed, including but not limited to circular economy, renewable energy, smart city, green tourism, sustainable agriculture and water treatment.
In addition, a three-day exhibition showcases cutting-edge green technologies and sustainability initiatives from Europe. More than 150 exhibitors, including companies related to renewable energy, banks, FMCG and NGOs, are expected to attend the event.
How to join GEFE 2022:
Join GEFE 2022 by scanning the QR code below. There, you can find information about the event's agenda, ticketing, exhibitors, and more. Tickets are required for the conferences but the exhibition is free of charge.
Same category news