Vietnam's internet economy expands to $14 billion
Xuan Thinh
Thursday |

11/12/2020 09:48
---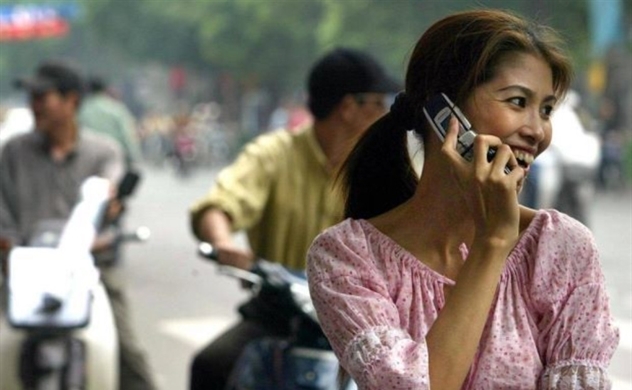 A woman talks on her mobile phone in Hanoi, Vietnam. Photo by AFP
Vietnam is among the fastest growing market of internet economy in Southeast Asia, with 16 percent growth last year to $14 billion, according to a Google report.
Vietnam and Indonesia are two countries with double-digit growth for the digital economy, of which Vietnam's digital economy reached a total value of $14 billion.
The report on Southeast Asia's Internet economy, released by Google, Temasek and Bain & Company, expects Vietnam's digital economy to grow 29 percent between 2020 and 2025, just after the Philippines with 30 percent.
The report also said that for the digital economy in the region, including Singapore, Indonesia, Malaysia, the Philippines, Thailand and Vietnam, there were 40 million new Internet users this year, bringing the total to 400 million to date.
Particularly in Vietnam, during the period of social gap, users started searching for solutions to sudden problems that arise through the Internet.
The survey also saw that Vietnam's 2025 internet economy could grow to about $52 billion. The e-commerce industry in Vietnam grew 46% and the country has the highest rate of new Internet users in Southeast Asia, according to the report.
Among the digital service consumers in Vietnam, 41 percent of them are new, the highest percentage among the six surveyed countries in the region.
The Covid-19 pandemic has led to major changes in Vietnam and the region. Specifically, in 2020, more than a third of digital users start using online services for the first time because Covid-19, of which, 95% intend to continue using online services immediately. The majority of new internet users come from suburban areas.
Despite the challenging economic environment, Southeast Asia's digital sectors continue to grow strongly, reaching $100 billion by 2020 and on track to surpass $300 billion by 2025.
There has been a major shift in the industries contributing to the region's digital economy.
E-commerce has emerged as the largest industry, growing 63% to reach $62 billion by 2020 and is expected to continue its growth trajectory, reaching $172 billion by 2025 in the region, according to the report.
Same category news
Latest news
Reuters | Alexandra Alper, Humeyra Pamuk