PVOIL opens Vietnam's first electric car charging stations at petroleum stations
Khanh Minh
Friday |

07/03/2020 11:49
---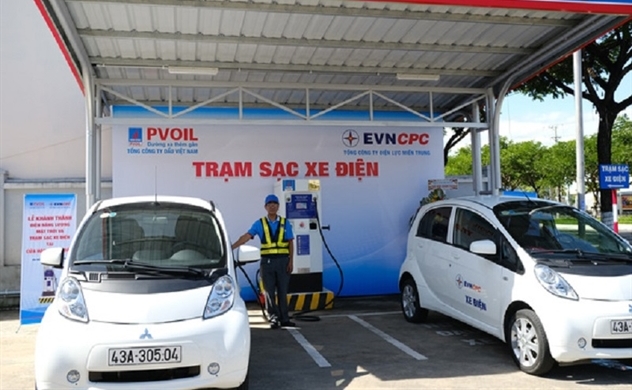 Staff member at a PVOIL petroleum station is conducting charging for electric cars. Photo: PVOIL
Vietnam Oil & Gas Group's subsidiary PVOIL has become the first petroleum retailer in Vietnam to introduce charging stations for electric cars, the company said in a posting on its website.
The two quick electric car charging stations installed at two PVOIL petroleum stations in Da Nang's Cam Le and Ngu Hanh Son districts are the first EV charging station using solar energy.
The facilities which were put into operation on Thursday in the city requires customers about 20 to 30 minutes for a full charge depending on cars and battery.
The corporation is conducting a pilot program using a combination between traditional petroleum station and a modern electric car charging station. The solar power system is installed on the roof of the existing station.
The charging station uses power from both solar system and national electricity grid. When the station is inactive, solar power will be transmitted back to the grid. The solar system and power grid will supply power to the charging station alternately. .
PVOIL is expected to build similar station nationwide. PVOIL, which has more than 3,000 petroleum stations in the country, will be the pioneer in building infrastructure for electric vehicles in the future, said Le Xuan Trinh, deputy general director of PVOIL.
PVOIL will expand and effectively operate electric vehicle charging stations in its petroleum station system, establishing a sector in new energy segment, he added.
Like purchasing petroleum at PVOIL petroleum station, customers who charge their car at the station can procced payment by scanning QR code on Mobile Banking apps that have connection with VNPay.