Vietnam PM orders to supply COVID-19 vaccine in first quarter
VOV
Tuesday |

02/02/2021 15:27
---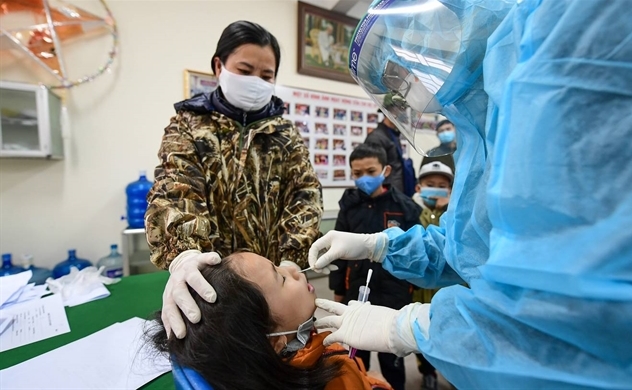 A medical worker in Hanoi collecting samples from students at the Xuan Phuong primary school, Nam Tu Liem District, on January 31, 2021. Photo by VnExpress/Tat Dinh.
Prime Minister Nguyen Xuan Phuc has urged relevant agencies to provide COVID-19 vaccine to people in the first quarter of the year.
The Vietnamese premier made the order while chairing the regular cabinet meeting on Tuesday morning. He stated that since January 27, there have been more than 270 locally-transmitted cases across 10 provinces and cities nationwide.
Amid the complicated developments of the pandemic, the Government, the National Steering Committee for COVID-19 Prevention and Control, especially the Ministry of Health, and localities, have actively become involved in the fight against the pandemic.
These preventative measures are being carried in a timely manner, such as shutting down emerging hotspots, enhancing contact tracing and testing on a large scale, and temporarily suspending non-essential activities.
In relation to the country's socio-economic situation during January, the cabinet leader gave positive news, with strong growth recorded in industrial production, with the processing and manufacturing industry seeing a 22% increase, coupled with macro-economic stability amid global fluctuations.
Indeed, the reviewed period also witnessed imports and exports grow by over 45%, a record growth in terms of trade surplus.
Elsewhere, the disbursement of public investment capital and the number of newly established enterprises also recorded strong results.
Amid the latest COVID-19 outbreak, PM Phuc asked for appropriate measures to be taken to keep up with socio-economic tasks, while also underlining the need to take advantage of opportunities.
This includes creating an investment environment that can attract additional capital flows whilst expanding the investment scale of foreign technology groups based in the country, including Intel and Samsung.
The PM suggested adopting more incentive policies in an effort to further facilitate domestic and foreign investment, while also ensuring stable macroeconomic management as a means of creating stronger public confidence in both the economy and health care.
He emphasized the promotion of three goals for the national economy, with a specific focus on the domestic economy of roughly 100 million people, the international economy with free trade agreements (FTAs), and the digital economy.
Source: VOV
Same category news