Vietnam has conducted nearly 1.24 million Covid-19 tests, Gov't says
Vien Nhu
Friday |

09/11/2020 17:15
---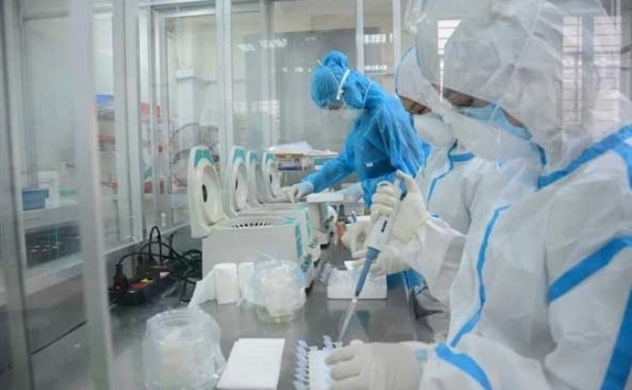 Photo: suckhoedoisong.vn
PM Nguyen Xuan Phuc presided over a meeting on Covid-19 prevention and control on Friday morning, which also saw the participation of representatives of ministries, sectors and a number of localities.
Addressing the event, the Government leader said that Vietnam has been effectively controlling the pandemic within the country as no new community infections have been reported in the past nine days, and the number of recoveries increase every day. 
The new normal has been established, he said, asking for continuous vigilance, especially among the health sector and hospitals. 
The health sector should always uphold a sense of responsibility in this process, while proposing timelier measures in the context of implementing the dual goal of fighting the disease and promoting economic recovery, the PM requested.
Touching upon the re-opening of some commercial flights in September, he urged special attention to carefully implementing disease prevention and control measures, such as quarantine and testing, emphasizing the resolve to prevent the emergence of new COVID-19 outbreaks caused by foreigners entering Vietnam.
According to a report by the Ministry of Health (as of 5pm on September 10), most countries in the Asia-Pacific region have required all foreigners to have COVID-19 immunity certificates two to five days before their entry, and be quarantined for 14 days and possibly up to 21 days after entry (at home or concentrated quarantine establishments).
So far, Vietnam has confirmed 1,059 COVID-19 cases, including 402 imported ones. A total of 35 fatalities have been reported so far, with all having severe underlying health conditions. 
Regarding the testing situation, Vietnam conducted 625,431 tests from July 23 to September 8 among the total of more than 1.06 million Real-time RT-PCR tests from the beginning of the pandemic (accounting for 58.8%). Up until now, 1,239,174 people have received COVID-19 testing.
According to the Health Ministry, more than 250 COVID-19 vaccines are currently being researched and tested around the world, with the eight most potential having entered the third and final stage of testing. The first registered vaccine against COVID-19, Sputnik V, has been manufactured by Russia.
From September 9, 2020, Russia will start performing trials of Sputnik V in about 40,000 volunteers who have registered online.
The vaccination consists of two doses with an interval of 21 days between them. In China, on September 7, the pharmaceutical company Sinova Biotech published data related to the results of the clinical trials (phase 1 and 2) of vaccine CoronaVac.
In addition, the U.S. is also preparing a plan to receive and distribute "a limited amount" of one or two vaccines that are expected to be given free-of-charge to high-risk groups, such as medical workers, security workers, and employees and people at nursing homes.
Same category news
NYT | Chau Doan, Livia Albeck-Ripka