US Secretary of State Mike Pompeo to visit Vietnam this week
Thuy Dung
Wednesday |

10/28/2020 16:24
---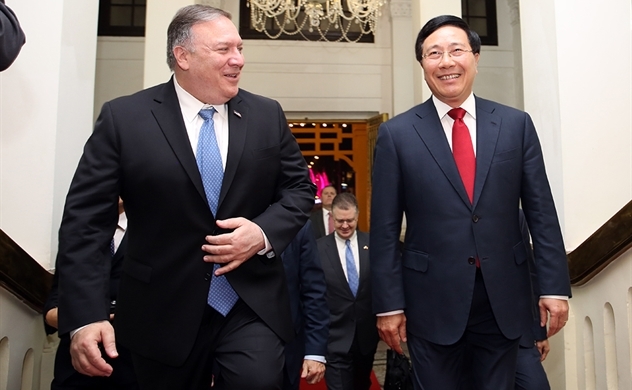 Photo: VGP / Hai Minh
US Secretary of State Michael Richard Pompeo will pay an official visit to Vietnam from October 29-30 at the invitation of Vietnamese Deputy Prime Minister, Foreign Minister Pham Binh Minh.
Pompeo's visit aims to mark the 25th founding anniversary of the two countries' diplomatic relations. He will be the third foreign minister to make official visit to Vietnam so far this year.
Prime Minister Nguyen Xuan Phuc reiterated Vietnam always regards the US as one of the top partners, expressing his wish to further foster the comprehensive partnership with the US, especially in such fields like economy, trade and investment, during his reception for Adam Boehler, Chief Executive Officer (CEO) of the US International Development Finance Corporation (DFC) and representatives from the US Department of Treasury, the Department of Commerce, and the US Export-Import Bank (EximBank), in Hanoi on Monday.
The Government chief said Vietnam attaches great importance to and highly values the US's active participation in the US-Mekong Partnership and that the DFC's investment expansion in the Mekong region will be foundation for building a dynamic, resilient, and sustainable Mekong region and a strong ASEAN.
He also affirmed Vietnam's currency interest rate policy is not designed to gain export advantages or to support domestic production.
Source: VGP
Latest news
Reuters | Alexandra Alper, Humeyra Pamuk