Hanoi and Ho Chi Minh City on high alert after suspected cases of Covid-19 reported
Khanh Minh
Wednesday |

07/29/2020 16:01
---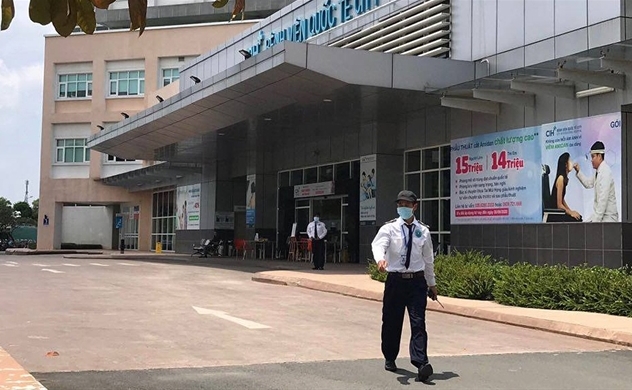 Security guards stand in front of the City International Hospital in Binh Tan District, HCMC, July 29, 2020. Photo by VnExpress/Dinh Vui.
Four suspected cases of Covid-19 have been reported outside Da Nang, Quang Nam, and Quang Ngai provinces, where 30 local patients were confirmed as of Wednesday.
During a Wednesday morning meeting with Prime Minister Nguyen Xuan Phuc, health officials reported four suspected cases, including 2 in Ho Chi Minh City, 1 in Hanoi, and another in Dak Lak province, pending confirmation, Voice of Vietnam cited the information from Ministry of Health. 
The City International Hospital in Ho Chi Minh City's Binh Tan District has announced to receiving patients after a couple with US citizenship visited and initially tested with the virus.
One of the patients had visited Da Nang Hospital twice before returning Ho Chi Minh City. A hotel opposite Cho Ray Hospital, where the couple stayed has also been put under lockdown.  
Earlier, the Me Tri Thuong Street in Me Tri Ward of Hanoi's Nam Tu Liem District and a pizza restaurant where the patient works were put under lockdown after suspected cases of the coronavirus were detected.
The suspected case, who lives in 230/26 Me Tri Thuong street, was said to have had a high temperature and breathing difficulties for several days after returning to Hanoi from Da Nang city.
The remaining suspected case was reported in Dak Lak. The patient, a medical practitioner at Da Nang Hospital, who was found to have contracted the virus after returning home.
Since weekend, the new wave of outbreak recorded 30 cases, including 27 cases in Da Nang city, 2 cases in Quang Nam, 1 case in Quang Ngai.
The country has reported 446 Covid-19 infections, including 77 active patients. Vietnam ended a 99-day streak without local transmission on Saturday when a 57-year-old man in Da Nang was confirmed with the disease.
► New local Covid-19 cases rise to 30, eight more confirmed in Da Nang
Same category news