European enterprises seek to build $1bln logistics center in Southern region
Khanh Minh
Thursday |

09/17/2020 10:20
---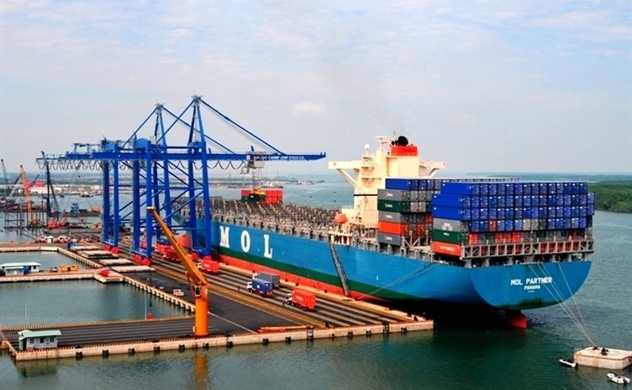 A corner of Cai Mep Port in Ba Ria - Vung Tau. Photo: Manh Kha / VnExpress
EU enterprises are seeking Government's approval to build a $984-million logistics center in in Ba Ria – Vung Tau to boost agricultural exports from Mekong Delta to Europe.
The information was heard during a recent meeting between Prime Minister Nguyen Xuan Phuc and Dutch Ambassador Elsbeth Akkerman, Belgian Ambassador Paul Jansen and European Union investors, according to the government news portal.
The Cai Mep Ha logistics center is projected to become a leading center of transportation services and agricultural exports from the Mekong Delta to the EU. Project is expected to accommodate large container ships.
At the meeting with PM Phuc, the representatives of European Union business community praised that the EVFTA which has been ratified could be a boost to the development of bilateral relations, creating a basis for investment cooperation in a logistics project.
Dutch Ambassador Elsbeth Akkerman emphasized that the Dutch Government supports this project when the Dutch Development Bank pledged to contribute 10% of the project investment.
In response to this proposal, Prime Minister Nguyen Xuan Phuc affirmed that Vietnam always creates favorable conditions for foreign investors and large enterprises, especially the EU to do business and invest in Vietnam.
"This project is very meaningful in the context that the Free Trade Agreement between Vietnam and the EU has just come into effect," the Prime Minister said.
PM Phuc assigned the People's Committee of Ba Ria - Vung Tau province to coordinate with the Ministry of Planning and Investment to consider the investor's proposal on the project and report to the Prime Minister on relevant issues.
The Netherlands is one of Vietnam's largest export markets in Europe. Bilateral trade in the first 7 months of 2020 reached $3.54 billion. Meanwhile, Belgium is the 6th largest export market of Vietnam in Europe with a turnover in 2019 of $3.1 billion.
► EU – Vietnam Free Trade Agreement expected to take effect on August 1
► EU trade pact could add 3.25% to Vietnam's GDP during next five years
Same category news
NYT | Chau Doan, Livia Albeck-Ripka