Diphtheria is spreading quickly in Vietnam's main coffee region, tally hits 63
Xuan Thinh
Wednesday |

07/08/2020 17:45
---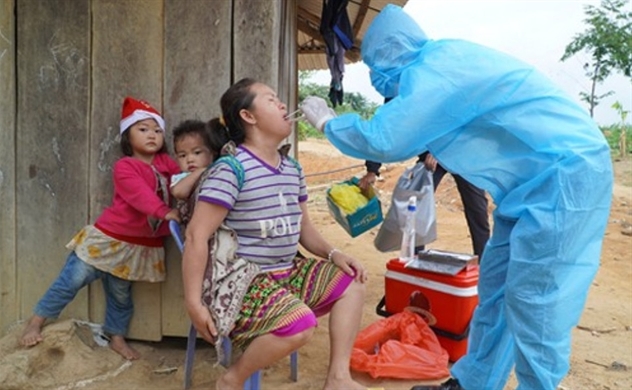 A health worker is taking sample from a children in the region for testing. Photo: suckhoedoisong.vn
Four provinces in Central Highland, the major coffee-producing region in Vietnam, has recorded 63 diphtheria cases as of Monday, 10 patients more than a day earlier, Ministry of Health said.
Acting Minister of Health Nguyen Thanh Long, who chaired the recent meeting with local health officials on July 7, said that the number of diphtheria patients has tripled from last year.
The 63 patients including three deaths were reported from Dak Lak, Dak Nong, Gia Lai, and Kon Tum provinces, where coffee is among main business of local citizen.  
Dak Lak province, which grows a third of the country's coffee, has been the latest province reporting the first case. It has vaccinated and isolated more than 700 people in a village of Lak district after the first case was reported on Tuesday.
Dak Nong province has 4 more cases, bringing the total number of cases to 25. Gia Lai province has 5 more cases, raising the tally to 15, while Kon Tum province has 22 cases as of the time the meeting was held.
Prime Minister Nguyen Xuan Phuc has urged relevant agencies and localities to control the epidemic while the Ministry of Health directed the Central Highlands Institute of Hygiene and Epidemiology, the Departments of Health and the Centers for Disease Control in these localities to intensify strict supervision of disease situation and detect new cases.
The acting minister expressed his concern that the disease may be spreading widely because vaccination rates in the affected region are very low. Most patients didn't receive sufficient vaccination.
Local health authorities were asked to review the history of diphtheria vaccinations of its residents and give the vaccine to them.
The Central Highlands with five provinces produces more than 90% of coffee in Vietnam. Diphtheria has now hit four out of the five provinces.
If the disease spreads more widely and continues through the next quarter, the coffee harvest, which usually begins in October, probably will be affected, Bloomberg cited Le Tien Hung, chief executive officer of the country's second-largest shipper Simexco Dak Lak.
"Still, I trust the diphtheria outbreak won't be that bad."
Vietnam is among top coffee exporters in the world. Trade ministry said that coffee exports in the first half of 2020 brought the country $1.6 billion, up 2.5%. 
The volume shipped during the period reached 955,000 tonnes, up 3.7% compared with the same period last year.
- Updates with information from Bloomberg, coffee exports.
► Nine more people in Gia Lai positive for diphtheria bacteria
Same category news