Apple considers iPhone production in Vietnam
Khanh Minh
Friday |

07/31/2020 17:11
---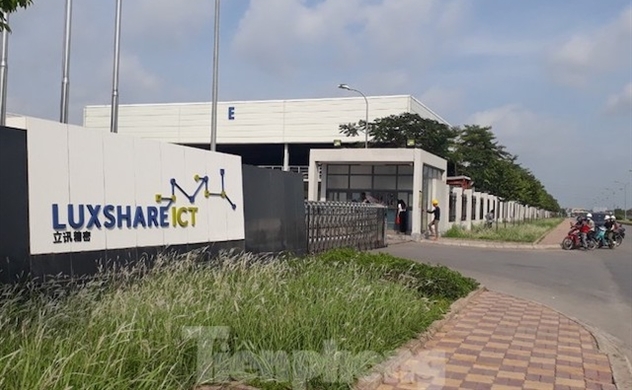 Representatives from Apple have inspected new workshops of Luxshare - ICT Vietnam in Bac Giang province in an attempt to shift iPhone production to the Vietnam-based workshops, reported Tien Phong Newspaper.
Apple representatives have surveyed the workshop of Luxshare -ICT Vietnam for iPhone production conditions. They were impressed with the construction speed at the facilities. They are happy with the workshop, said Tang Due Bang, Foreign Affairs Manager of Luxshare - ICT Vietnam told the paper.
Luxshare - ICT is expected to hire 50,000-60,000 employees in Vietnam.
Last year, the company expanded its production facilities in the province's Quang Chau and Van Trung industrial parks. The workshop in Van Trung industrial park was built in just 5 months under the request from Apple.
Apple asked the company to build dormitories for workers.
Luxshare – ICT, which ranks 20th among the 100 largest companies in China is one of three manufacturers of Apple products, including iPhone.  
Currently, Luxshare - ICT Vietnam has invested $270 million in Bac Giang province, employing 28,000 workers. The company plans to raise total number of employees to 50,000 - 60,000 following request from Apple.
"We look forward to get license from authorities to build dormitories for workers. Bac Giang has favorable conditions including location near the border, so we plans to expand and do business here", said Bang.
Recently, Hon Hai Precision, one of 3 iPhone manufacturers, sent a petition to the Government Office, Ministry of Construction, Ministry of Planning and Investment on the construction of 3 housing projects for workers.
The project which will be developed on 16.7 hectares of land has a total investment of VND3,400 billion. The group is also seeking approval to invest an additional industrial park in Luc Nam district, Bac Giang province.
► Apple to produce up to 4 million AirPods in Vietnam amid pandemic
► Apple hirings in Vietnam fuel business speculation
► Foxconn plans $325mln affordable housing project for workers in Vietnam
Same category news