Pop-up charity food shop launched to support pandemic-hit citizens in Hanoi
Khanh Minh
Tuesday |

08/03/2021 16:08
---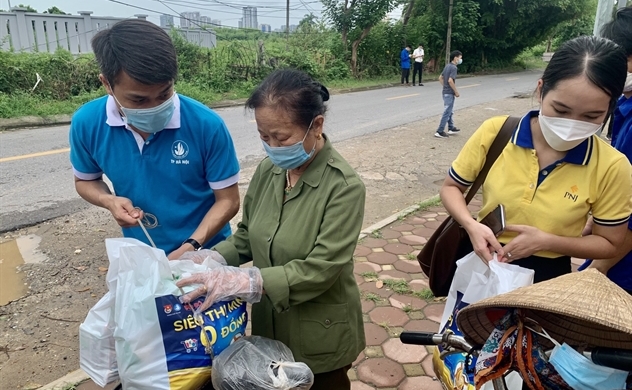 Photo: PNJ
A pop-up charity food shop that offer self-employed people free food to people in Hanoi has been opened amid social distancing implementation to prevent the virus in the city.
The food shop called 0 dong mini supermarket was expected to become one of several meaningful activities to support workers and students who are struggling difficulty due to the pandemic.
The supermarket is an activity in the "Hanoi Trai Tim Hong" campaign which is co - organized by the Youth Union - the Vietnam Student Association in Hanoi, Red Star Entrepreneurs Club, and Phu Nhuan Jewelry Joint Stock Company, in collaboration with Hanoi Young Entrepreneurs Association and Hanoi Women Entrepreneurs Association. The campaign is sponsored by the Hanoi Department of Industry and Trade.
Specifically, the "0 dong mini supermarket" provides necessities for reduced income workers or unemployed people due to COVID-19, difficult students stuck in dormitories, disabilities, policy beneficiaries, people with meritorious services to the revolution, and other disadvantaged. There are more than 60 items in the mini supermarket such as dried and fresh foods, spices, vegetables, etc.
Each difficult family will receive a "Gift Voucher" worth VND400,000, they will come to the supermarket at different specified time frames to ensure strict compliance with epidemic prevention regulations. All products with clear origins are supplied by large reputable local units and classified by dried food, fresh food, spices.
With the desire to spread the community spirit to businesses and people, the initial funding for "0 dong mini supermarket" was contributed by the members of the Red Star Entrepreneur Club.
Not only wishing to operate with donations from large corporations such as Tan Hoang Minh, PNJ, Eurowindow, Alphanam, Phu Thai, Hung Thinh, Deloitte, Cen Group, Phuc Khang, Truong Sinh Group, Motivation, Vinh Tien Holdings, HSTC Group, PVOIL, Son Ha Xanh, An Cuong, Citicom, Gaet, Thai Hung, Sonadezi, ... but "0 dong mini supermarket - Ha Noi Trai Tim Hong" also wishes to receive the cooperation and consensus from all organizations and individuals.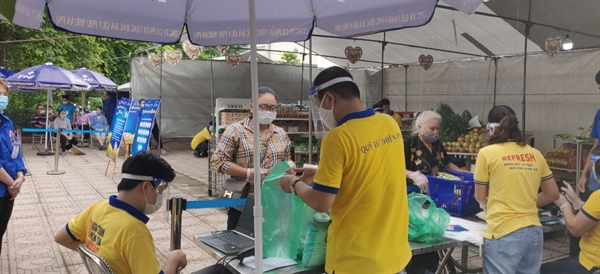 Photo: PNJ
Our very first Pop-up Charity Food Shop " Sieu thi mini 0 dong - Ha Noi Trai Tim Hong" was held on August 1 at the People's Committee of Duc Thang ward, Bac Tu Liem district. It served nearly 1,000 people: poor workers, self-employed people affected by COVID-19 and hundreds of students are stuck in dormitories.
Next week, 03 more mini supermarkets are launching. The Organizing Committee hopes to replicate this model, aiming to deploy more than 20 mini supermarkets throughout Hanoi with tens of thousands of "Gift Vouchers" given.
This model is a practical solution to help many workers and students who can't go to work, lose their income due to the Covid 19. The Organizing Committee aims to flexibly support many different situations through many forms. In addition to the offline model, online "0 dong mini supermarket" (order on website: sieuthimini0dong.com – delivery within 1-2 days onward) is more convenient for difficult students.
For people who are in isolation and blockade areas, there are "Loving Pick-up Cars" transporting essentials to their place with the slogan "No one is left behind, together we can overcome the pandemic."
The first "0 dong mini supermarket" model was initiated by PNJ with 23 points in Bac Giang (collaborated with the Bac Giang Provincial Confederation of Labor) when the COVID-19 epidemic became complicated, causing thousands of workers to be stuck.
There are more than 25 "0 dong" mini supermarkets in Ho Chi Minh City so far (in the "Vong Tay Viet" campaign organized under coordination of PNJ with the Department of Industry and Trade, the Association of Vietnam High-Quality Goods Enterprises, the Ho Chi Minh City Youth Union, YBA, and Hawee).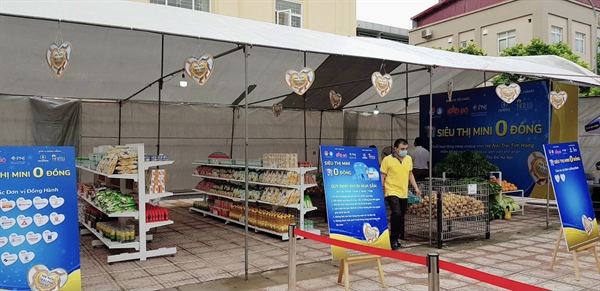 Photo: PNJ
There are also 4 mini supermarkets opened in Can Tho, Binh Duong, Da Nang. Following that loving journey, "0 dong mini supermarket - Ha Noi Trai Tim Hong" was opened in Hanoi with the desire to strengthening the capital in these difficult days. Up to now, more than 50,000 "Gift Vouchers" have been given, helping more than 50,000 difficult families.
The campaign also gave 6,000 gifts to doctors and medical staff at the frontline force against the epidemic. Meanwhile, online 0 dong mini supermarket was quickly set up and supported more than 5,500 students in 34 dormitories in more than 70 universities.
Same category news