Vietnam's dairy giant Vinamilk reports 3% profit growth in 1H
Bich Phuong
Friday |

06/26/2020 13:30
---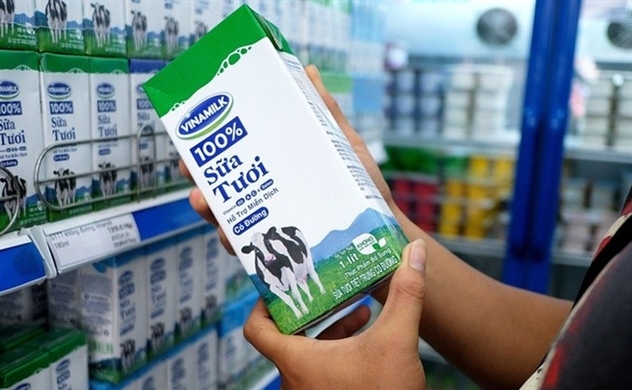 In the first quarter, revenue from international market increased by 8%. Photo: dantri.vn
Vietnam's largest dairy producer reported 3 percent after-tax profit growth during the first half of this year while revenue grew 7%, CEO Mai Kieu Lien told shareholders on Friday.
The dairy producer has exported products to 53 markets and Middle East, Cambodia and South Korea have proved significant growth recently.
In the first quarter, revenue from international market increased by 8%.
In the domestic market, the company has developed 251,000 selling points, launched e-commerce channels, special customer groups including hospitals and schools.
At the meeting, the company's board submitted 2020 revenue target of VND59,600 billion ($2.56 billion), up 5.7% from 2019. After-tax profit was projected at VND10,690 billion ($459 million), an increase of 1 percent from 2019.
The company plans to pay 2020 dividend at 50% of consolidated after-tax profit. Dividend will be paid in three tranches with the initial advance of 20 percent on October 15. The second tranche of 10% is schedule for February 26, 2021. The remaining dividend will be decided by the General Meeting of Shareholders in 2021.
Last year, Vinamilk (HoSE: VNM) reported VND56,400 billion ($2.4 billion) in revenue and VND10,581 billion ($454.5 million) in after-tax profit, up 7.2% and 3.4% respectively.
Based on the business results, Vinamilk decided 2019 cash dividend of 45% with the remaining 15% to be paid in 2020.
Recently, the dairy giant which has more than half of Vietnam's dairy market has announced to expand its Hi-Café chain, which will come up against local brands Highlands Coffee, The Coffee House, Phuc Long, and Trung Nguyen, and foreign brand Starbucks.
It has also partnered with KIDO Group, one of Vietnam's leading food & flavor companies to form a beverage joint venture called Vibev.
According to information from Kido Group (HoSE: KDC), it will hold 49% stake in the new company while Vinamilk holds the remaining 51% of share.
► Vietnam's largest dairy producer Vinamilk to set up coffee chain
Same category news