Steelmaker Hoa Phat boosts galvanised steel exports to Europe
Xuan Thinh
Monday |

11/30/2020 13:51
---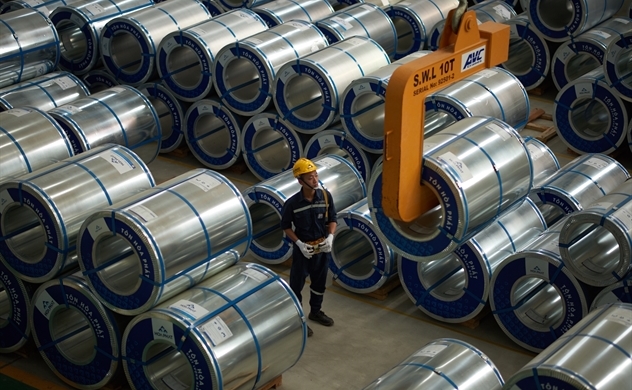 Steelmaker Hoa Phat to export 10,000 tons of galvanised steel to Europe in November. Photo: Hoa Phat
Vietnam's largest steelmaker Hoa Phat plan to increase export of galvanised steel products to Europe, with the first shipment of 10,000 tonnes to the market in November, it said in a statement.
Hoa Phat's steel exports to major markets, including the US, Australia, Europe, and Thailand, has witnessed robust growth since the beginning of the year and has far exceeded that of the same period from last year.
As a result of being manufactured on production lines imported from Europe, galvanised steel products by Hoa Phat are capable of meeting high standards set by demanding markets, such as Japan, the US, the EU, and Australia.
This year has seen the local firm secure a firm foothold domestically, whilst their steel products have gradually made inroads into the world's most significant steel consumption markets, including the US and the EU.
At present, Hoa Phat group is the first business that enjoys having the autonomy of input materials, largely due to hot-rolled coil items being produced at the Hoa Phat Dung Quat Iron and Steel Integrated Complex.
It is anticipated that the move will allow Hoa Phat to dominate the local market thanks to their competitive prices, whilst simultaneously tightening control over product quality and increasing the proportion of exports.
The Vietnamese steel giant aims to reach maximum design capacity and diversify export markets to take full advantage of free trade agreements signed by Vietnam and its partners.
Earlier, the steelmaker reported orders for hot-rolled coil steel product exceed 200 percent of its production capacity.
The number of orders for hot rolled coil products reached more than 180,000 tonnes till January 2021, while the group could only supply 90,000 tonnes as it has to reserve a part for internal use.
The demand for HRC products both inside and outside the country has been on the rise, especially in China, causing pressure to the HRC supply worldwide. In China, the policy to reduce HRC output in the winter was officially taken effects despite of rising demand in the country.
The depreciation of the US dollar against the Chinese yuan has also prompted factories to focus on selling domestically. This causes a HRC shortage in the world.
According to Vietnam Steel Association, the HRC selling prices in the domestic market has been increased by $15-20 per tonne from the beginning of October and currently fluctuating around $550-570 per tonne. Despite of the increasing prices, the demand for HRC products has been still high.
► Hoa Phat projects 2020 after-tax profit to grow 19% to $387.5mln amid crisis
► Hoa Phat's September steel sales hit new record of 522,000 tonnes
► Hoa Phat's Q3 after-tax profit doubles to $163mln
Source: Hoa Phat, VOV