Masan's retail arm reports profits 7 quarters post acquisition
Van Dat
Friday |

10/29/2021 14:33
---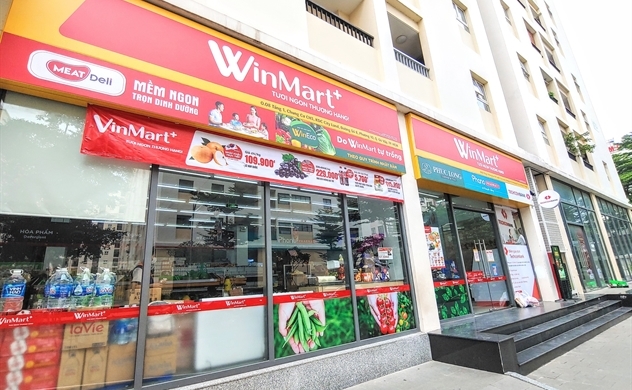 WinCommerce reports 3Q net income at VND137 billion ($6 million). Photo: Masan
WinCommerce, formerly known as VinCommerce, has reported profits for the first time in third quarter of 2021, two years and four months after the retail unit was acquired by Masan Group.
In third quarter, WinCommerce reported VND137 billion ($6 million) in net income, driven by an over 21 percent year-over-year growth in net revenue and EBITDA margin reaching positive 5.5 percent versus negative 3 percent during the same quarter last year, according to the company's statement.
The achievement was driven by improved total commercial margin following by negotiating with suppliers, store operating costs optimization, and logistics initiatives to cut operation cost and reduction of ineffective stores.
Revenue on each square meter every month of the entire WinMart+ network increased by 44 percent in the reported quarter. Major drivers for this improvement include focus on fresh products, improved store layout and optimized product assortment.
WinMart+ delivered net revenue of VND16,168 billion ($712 million) in nine-month period, up 7.1 percent compared to the same period of 2020. Net revenue in third quarter increased 23.4 percent.
Nine-month net revenue of Masan's retail arm increased by 1.3 percent from a year ago despite 200 fewer retail locations in operation compared to same period last year due to strong growth in the minimarket segment, offset by the impact of COVID-19 pandemic on supermarket segment.
Single digit topline growth at WinCommerce was primarily due to a reduced number of store locations after 2020's network rationalization. About 2,456 stores were operational at the end of third quarter of 2020 versus 2,654 at the end of third quarter of 2020.
"I am proud of how we have responded during the height of the pandemic, but it is time to create the future for the 'new normal'. Consumers are now prioritizing quality of life which will accelerate the modernization and innovation of Vietnam's consumer value chain, from products to services," Chairman Nguyen Dang Quang said in the statement.
"We are positioned for the new normal with the successful integration of our FMCG-retail platform. The next phase will be to scale up our 'Point of Life' concept, a modern mini-mall that combines the most trusted, innovative brands and services to serve consumers most of their daily life essentials from off to online. This will enable us to create a unique loyalty platform and the economies of scale to ensure consumers will pay less for their daily essentials."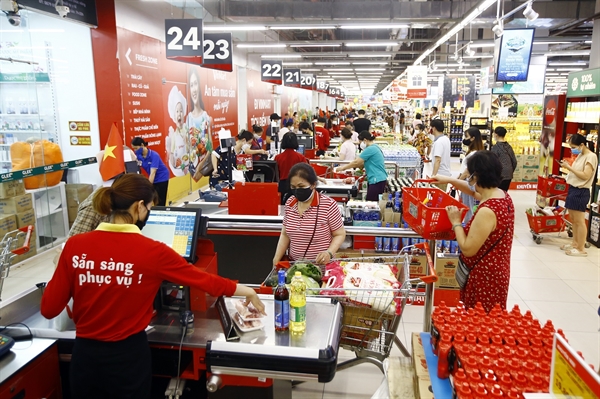 Masan Group reported Jan-Sept. net revenue at VND64,801 billion ($2.85 billion), up 16.5 percent. Photo: Masan
Revenue growth is expected to be maintained following by planned openings of about 1,000 minimarkets over the course of the next 12 months. New stores projected to deliver breakeven EBITDA within 6 to 12 months after opening.
The CrownX, Masan's integrated consumer-retail platform that consolidates WinCommerce and Masan Consumer Holdings delivered nine-month EBITDA of VND4,774 billion ($210 million), up 185.8 percent compared to VND2,569 billion ($113 million) nine months of 2020.
It was able to deliver such earnings growth despite being adversely impacted by higher operating costs and supply chain disruptions due to pandemic related lockdowns.
Thanks to the positive business results, Masan Group reported Jan-Sept. net revenue at VND64,801 billion ($2.85 billion), a growth of 16.5 percent versus VND55,618 billion ($2.45 billion) in nine months of 2020. Net income was reported at VND2,126 billion ($93.5 million), up 119.4 percent. 
Beside WinCommerce, the growth was also driven by strong year-on-year topline growth across nearly all businesses of the group – Masan MEATLife at 32.8 percent, Masan Consumer at 14.3 percent, and Masan High–Tech Materials at 89.3 percent.
Masan is confident in its ability to deliver 2021 net revenue and net income targets decided by shareholders at the annual general meeting. Potential COVID-19 related outbreaks could potentially affect fourth quarter business results.