Hoa Phat's Q3 after-tax profit doubles to $163mln
Khanh Minh
Thursday |

10/15/2020 10:55
---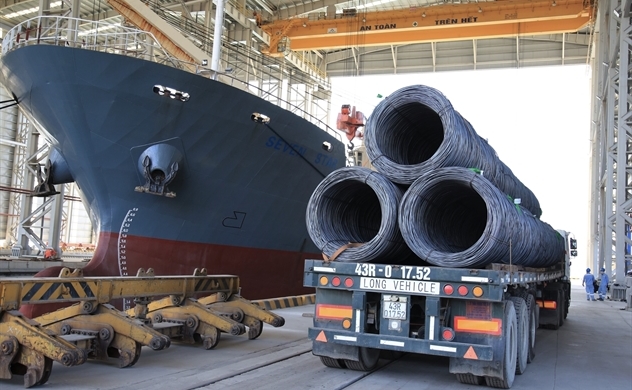 Hoa Phat Group posted a record business results in the third quarter. Photo: Hoa Phat
Hoa Phat has reported VND3.78 trillion ($163 million) after-tax profit in Q3 of this year, double from a year ago, according to a statement posted on its website.
This has been the first time the Vietnamese steel maker posted a record after-tax profit in a quarter. Its third quarter revenue hit VND24.9 trillion ($1.07 billion), up 62.7 percent. 
In the first 9 months of the year, Hoa Phat recorded positive business results with revenue of VND65 trillion ($2.8 billion) and after-tax profit of VND8.84 trillion ($380 million), up 40 percent and 56 percent respectively over the same period in 2019.
The after-tax profit in the nine-month period reached 98 percent of the whole year's plan. This has also been the first time that both revenue and after-tax profit in the first 9 months of 2020 have exceeded the performance level in 2019 to the highest level so far.
The achievements were thanked to a series of positive business indicators, in which iron and steel and agriculture have the highest contribution.
In September 2020, the group officially took the lead in crude steel production with 575,000 tonnes, the highest level so far, an increase of 19 per cent compared to August 2020 and nearly doubled over the same period in 2019.
In the January-September period, Hoa Phat Group supplied more than 4 million tonnes of crude steel, double than the same period last year.
In which, the sale of finished construction steel reached nearly 2.5 million tonnes while the remaining were steel billets and hot rolled coil.
Hoa Phat's steel market share continued to take the leading position with 32.6 per cent. The group has not taken the lead in the domestic steel market but also shipped more than 370,000 tonnes, up 95 per cent over the same period last year.
The total volume of steel billet sold to both domestic and foreign customers after 9 months reached 1.25 million tonnes.
The group's total sale volume of steel pipes and galvanized steel sheet has seen relatively high growth despite many difficulties due to the COVID-19 pandemic.
In the first 9 months of the year, its sales of steel pipe products reached nearly 570,000 tonnes, representing 3.5 per cent year-on-year increase. Especially, Hoa Phat steel sheet recorded a growth of 150 per cent over the same period.
Hoa Phat sets a target of VND86 trillion ($3.7 billion) in revenue and VND9 trillion ($388 million) in after-tax profit in 2020. With the above positive results, the group is confident to surpass the set plans, and striving to put the No. 4 blast furnace - the last item of Hoa Phat Dung Quat Iron and Steel Production Complex into operation in January 2021.