Hoa Phat projects 2020 after-tax profit to grow 19% to $387.5mln amid crisis
Xuan Thinh
Thursday |

06/25/2020 14:25
---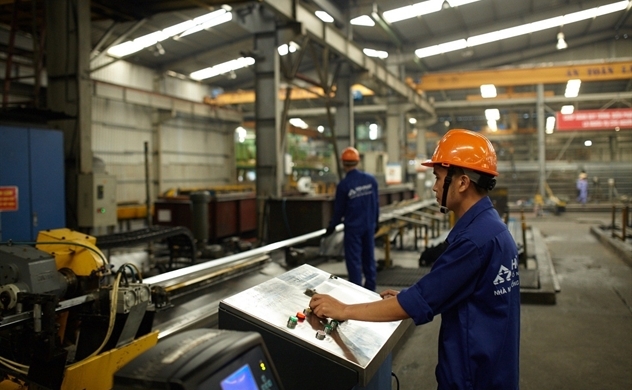 In second quarter alone, after-tax profit reached VND2,7 trillion ($116 million). Photo courtesy of Hoa Phat
Vietnam's steel maker Hoa Phat Group targets VND9 trillion ($387.5 million) after-tax profit in 2020, up 19% from 2019 despite impacts from COVID-19 pandemic.
The company's Board of Directors got approval from shareholders during Thursday annual general meeting to place 2020 revenue target at VND86 trillion ($3.7 billion), up 33% from a year earlier.
At the meeting Hoa Phat's Board proposed to pay 2019 dividend at 25%, including 5% cash dividend and 20% to be paid in stock. However, shareholders propose the group's leaders to keep the money for further investment. The company has not paid dividend for four years.
The steel maker got approval to increase investment at Dung Quat Iron and Steel Complex project to VND6 trillion ($258.5 million) from VND5 trillion ($215 million).
In the first half of this year, the company recorded VND5 trillion after-tax profit, up 30 percent from 2019, completing nearly 56% of whole-year goal.
In second quarter alone, after-tax profit reached VND2,7 trillion ($116 million), said Chairman Tran Dinh Long.
In five months, Hoa Phat sold 1.26 million tons of construction steel, up 9% over the same period. Steel exports grew more than 50%. Main markets were Japan, Australia, Canada, Thailand, Cambodia, Malaysia.
In 2020, the group expects to produce 3.5 million tons of construction steel. Its market share of construction steel increased to 31 percent from 26 percent. Market share in Southern region has been doubled. The COVID-19 pandemic did not have impact on Hoa Phat's business, said Chairman Long.
Same category news