Treasury's cash plunges below $50 billion as debt-limit fight drags on
Alex Harris
Friday |

05/26/2023 16:08
---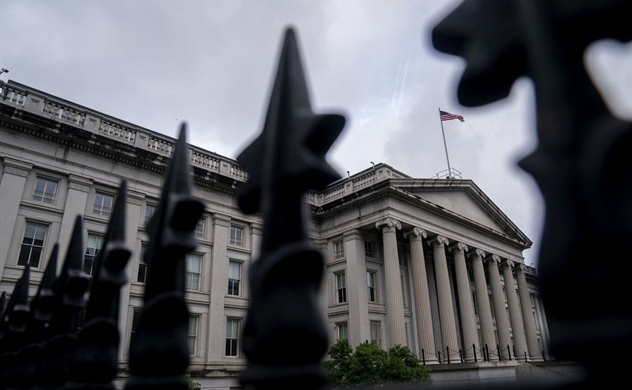 The US Treasury Department in Washington, DC. Photo by Bloomberg.
The amount of money the US government has to pay its bills tumbled to the lowest since 2021, posing a risk the administration will run out of funds by early next month.
The Treasury's cash balance fell to just $49.5 billion on Wednesday, according to data published Thursday. That's down from from $76.5 billion a day earlier and $140 billion on May 12. The Treasury's bank account has been under downward pressure recently because of measures being taken to avoid breaching the $31.4 trillion debt cap. Wednesday's move was the biggest one-day drop since May 15.
"This just shows you how close to the abyss we're getting," said TD Securities strategist Gennadiy Goldberg. "While some in Congress question the Treasury's math, I think the cash balances speak volumes: we're going to be going over the cliff very soon. Honestly, we're on borrowed time." 
The government has also been engaging in various accounting gimmicks to steer clear of a breach, and had around $92 billion of those up its sleeve as of last Tuesday.
The latest developments on the cash pile also come amid ongoing warnings from Treasury Secretary Janet Yellen, who said Wednesday that signs of market stress are beginning to emerge as the federal government moves closer to exhausting its cash, and that the administration's focus is on completing a debt-limit deal rather than contingency planning for a default. 
Speaker Kevin McCarthy said Thursday issues remain in negotiations with the Biden administration on raising the federal debt limit as the clock ticks down to the point when the US Treasury runs out of cash.
The premium investors demand to hold US paper that's most at risk of default if Congress and the White House fail to strike a deal on the debt ceiling has receded though anxieties remain heightened. 
Yields on securities due in early June — the period in which Treasury Yellen has warned the US might run out of borrowing capacity and be unable to make payments — slipped back Thursday after reaching levels above 7% the previous day. That move came as comments from lawmakers gave succor to those optimistic that an agreement will be reached.
Source: Bloomberg
Same category news
Kenya Akama - Fumika Sato