Southeast Asia's fintechs fill lending gap with data
Tsubasa Suruga
Friday |

10/27/2023 12:05
---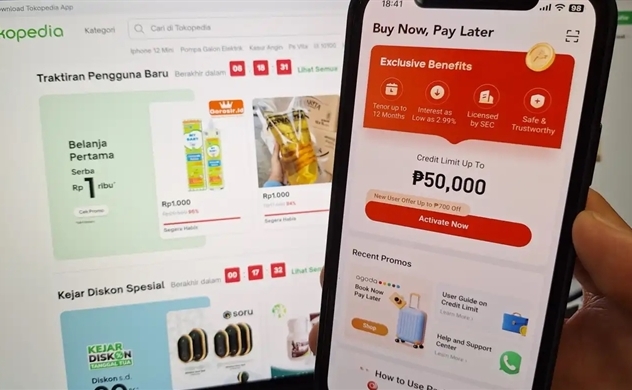 Online lending services like Akulaku are becoming a go-to source of credit for younger borrowers in Indonesia. Photo by Tsubasa Suruga.
Southeast Asian fintech startups are extending credit to younger borrowers, many of whom have limited access to traditional financial services, even as some of the region's largest lenders rush to digitize businesses.
So-called buy now, pay later services and digital banks are quickly plugging a large lending gap in the region, as widespread adoption of smartphones and the use of e-commerce platforms allows fintechs to obtain customer data and screen even those with little or no credit history. 
Lending services are turning into the forefront for the finance sector, with more companies making forays into banking this year through acquisition of traditional lenders or buying stakes from them.
Ganis Pawestri, a 27-year-old secretary in central Jakarta, does not have a credit card. Instead, she uses an app called Akulaku to make everyday purchases and fashion goods online, spending about 800,000 Indonesian rupiah ($50) a month. 
At the end of the month, she makes payments through an online bank, which is also operated by an Akulaku group company. There are no interest charges on the monthly payments. For more expensive purchases, such as travel, she pays in three installments at an interest rate of up to 2%. 
"I just didn't have a good experience with banks," Pawestri told Nikkei Asia. After she graduated, she was turned down for a credit card several times. Even after clearing the initial screening at a different lender, she said it took weeks before she learned the card she was to receive had been lost in the mail. 
Fintech services like Akulaku, which allow payments in up to 12 monthly installments, are popular in Indonesia, where only around 5% of people have credit cards. Launched in 2016, over 60% of its 5 to 7 million monthly active users are millennials.
"Serving [customers] digitally is crucial for the finance sector" to broaden the company's customer base in far-flung Indonesia, which is made up of around 17,000 islands, said Efrinal Sinaga, president director of Akulaku Finance. The group, which also operates in the Philippines and Malaysia, aims to serve 50 million customers across the region by 2025. 
For its clients, a big draw is the ease of gaining access to credit even for those who have little or no borrowing history. Without using personally identifiable information, Akulaku has built a credit scoring model by partnering with e-commerce sites and telecom carriers to assess potential borrowers' creditworthiness based on their spending habits.
Emerging economies such as Indonesia have often lacked or been late to develop credit bureaus, which banks and consumer lenders use to obtain up-to-date credit histories on prospective borrowers. 
The app sets a credit limit for each customer, depending on their income and payment history, helping them not to become overextended. Pawestri in Jakarta started with a 3 million rupiah limit, which doubled a year and a half later, as she frequently used the service.
According to a study by the Centre for Impact Investing and Practices (CIIP), a nonprofit unit of Temasek Trust in Singapore, 63% of fintech users are first-time customers and 57% said they do not have access to alternatives, compared with 46% and 40%, respectively, for traditional financial service providers.
But fintech players "tend to offer products with shorter tenure and higher annualized prices," the report noted.
Published in June, the study was the first comprehensive analysis of the impact of financial inclusion in Southeast Asia. It surveyed 6,500 financial services customers in six countries: Cambodia, Indonesia, Myanmar, the Philippines, Thailand and Vietnam.
"The acceleration of the fintechs to address the space is also a reflection of the number of unbanked and underserved in this region," Dawn Chan, CEO of CIIP, told Nikkei Asia. While traditional players are addressing the digital market, fintechs tend to be "more nimble," Chan said, in terms of speed to market and investment. 
Some of the largest Asian banks are now moving more aggressively in Southeast Asia's online lending, which is expected to hit $116 billion by 2025, growing almost threefold from 2021, according to a report last year by Google, Temasek Holdings and Bain & Co. 
Last year, Thailand's Siam Commercial Bank invested $100 million in Akulaku, while Japan's largest lender, MUFG Bank, also invested $200 million and took a stake of around 10% in the Indonesian online lender. 
Japan's Mizuho Bank in March led a $270 million fundraising round for Kredivo Group, a competitor of Akulaku's in Indonesia. Launched in 2016, Kredivo targets more affluent customers in the country -- those with a minimum monthly salary of 3 million rupiah. 
In an interview with Nikkei Asia, Kazutoshi Isogai, Mizuho's retail and business banking chief, said that Vietnam, Philippines and Indonesia are "some of the most promising markets for retail banking," adding that the Japanese bank may extend its partnership into new markets. Apart from Indonesia, Kredivo already operates in Vietnam. 
Utilizing its core credit technology, Kredivo has expanded its range of services, including issuing its own credit cards. The online lender is also looking to launch a digital bank at "some point this year, depending on regulatory approval," said Kredivo Chief Strategy Officer Abhijay Sethia. 
Indonesia is seeing a wave of tech firms acquiring traditional banks to turn them into digital banks. Last year, Kredivo took a majority stake in publicly listed Bank Bisnis Internasional. Grab and Singapore Telecommunications plan to open their own digital bank this year in Indonesia after they bought a minority stake in a small private lender. Earlier this month, South Korea's KakaoBank announced it will acquire a 10% stake of the consortium. 
Despite their shorter track record, the newcomers are improving the quality of their lending, too. The CIIP report highlighted that default rates of both fintechs and traditional nonbanks were "only slightly higher than banks." In 2022, the weighted average default rate among fintechs was 2.8%, just above traditional banks at 2.5%. 
Yet like most startups, many of the new fintechs are losing money. The key to their survival will be serving customers sustainably. Singapore-based Advance Intelligence Group, which operates a credit service called Atome, announced in July it had pulled out of Vietnam after entering the country just last year. 
"When they talk about optimizing for business processes and digitalization, [fintechs are] very focused on reducing operating costs as well," said Chan of CIIP, "because they're very cognizant of the fact that, if they want to be a sustainable business to continue over time, they have to make sure that the unit economics actually work."
Source: Nikkei Asia
Same category news
Kenya Akama - Fumika Sato