SoftBank Vision Fund Posts $17.7 Billion Loss on WeWork, Uber
Bloomberg | Pavel Alpeyev
Monday |

05/18/2020 14:54
---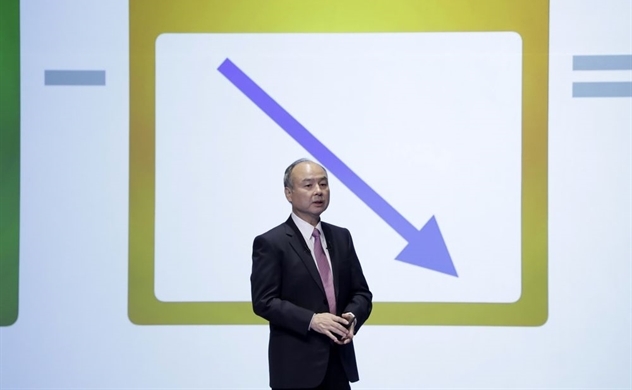 Masayoshi Son, Photographer: Kiyoshi Ota/Bloomberg
SoftBank Group Corp. said its Vision Fund business lost 1.9 trillion yen ($17.7 billion) last fiscal year after writing down the value of investments, including WeWork and Uber Technologies Inc.
The company posted an overall operating loss of 1.36 trillion yen in the 12 months ended March and a net loss of 961.6 billion yen, according to a statement on Monday.
The Tokyo-based conglomerate released figures in two preliminary earnings statements last month. The losses are the worst ever in the company's 39-year history.
SoftBank founder Masayoshi Son's $100 billion Vision Fund went from the group's main contributor to profit a year ago to its biggest drag on earnings.
Uber's disappointing public debut last May was followed by the implosion of WeWork in September and its subsequent rescue by SoftBank.
Now Son is struggling with the impact of the coronavirus on the portfolio of startups weighted heavily toward the sharing economy. Son is scheduled to hold a briefing discussing the results later on Monday.
The drop in Uber's share price was responsible for about $5.2 billion of Vision Fund's losses in the period, while WeWork contributed $4.6 billion and another $7.5 billion came from the rest of the portfolio, SoftBank said.
The $75 billion the Vision Fund has spent to invest in 88 companies as of March 31 is now worth $69.6 billion.
SoftBank also recorded losses from its own investments, including WeWork and satellite operator OneWeb, which filed for bankruptcy in March.
Last year, after WeWork's effort to go public fell apart, SoftBank stepped in to organize a bailout and put its own chief operating officer, Marcelo Claure, in charge of turning around the business. But the pandemic has hammered its operations as workers shy away from gathering in shared office spaces.
WeWork's valuation is now $2.9 billion, down more than 90% from its peak. SoftBank has invested more than $10 billion in the company.
Son's investments in hotel-booking service Oyo Hotels & Homes and Uber, among the biggest in his portfolio, have also fared poorly.
Oyo, in which SoftBank invested about $1.5 billion, last month furloughed employees in countries outside its home market of India as it struggles to survive the virus. Uber's shares are trading about 28% below its IPO price.
As the concerns about investments mounted, Son responded with two share buybacks in rapid succession. The first 500 billion yen repurchase announced in mid-March initially failed to lift SoftBank's stock. When the shares plunged more than 30% in the week that followed, Son unveiled a 2 trillion yen follow-up.
SoftBank has already used roughly half of the first allotment. The company said on Friday that it had bought 250.6 billion yen of its own stock since March 13 under the original re-purchase plan.
Source: Bloomberg
Hot news of the day