President Trump, first lady Melania test positive for coronavirus
CNBC | Christine Wang
Friday |

10/02/2020 16:15
---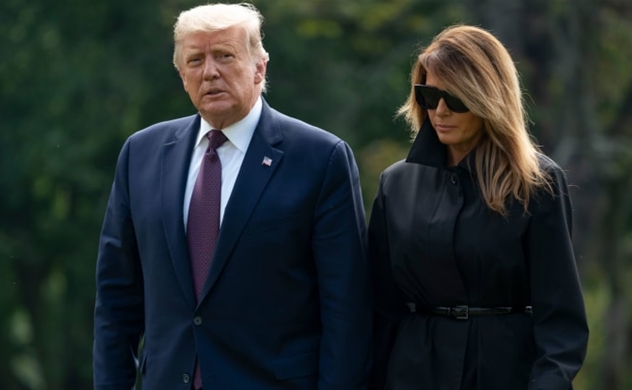 US President Donald Trump and First Lady Melania Trump return to the White House in Washington, DC, on September 11, 2020. Andrew Caballero-Reynolds | AFP | Getty Images
President Donald Trump and first lady Melania Trump tested positive for coronavirus.
President Donald Trump said he and first lady Melania Trump have tested positive for coronavirus, plunging the United States into further upheaval and uncertainty just over a month away from Election Day.
The White House physician said the president and first lady were "both well" at the moment. 
In a tweet early Friday morning, Trump said: "We will begin our quarantine and recovery process immediately. We will get through this TOGETHER!"
Shortly after Trump's tweet, U.S. stock futures moved sharply lower with Dow futures falling more than 500 points at one point.
Trump is now the most prominent figure to come down with Covid-19. Previously, U.K. Prime Minister Boris Johnson and Brazilian President Jair Bolsonaro had tested positive for coronavirus and survived.
Trump's track record
Trump has come under withering criticism for his handling of the coronavirus pandemic in the United States, where over 7.2 million have been infected and more than 207,000 people have died, according to a tally from Johns Hopkins University.
The president has admitted on tape to knowingly downplaying the severity of the virus and has pushed an overly optimistic outlook on the disease as it spread across the country.
He has aggressively pushed for schools, businesses and sports leagues to reopen after the pandemic hammered the economy, which had been humming along and had given him his strongest argument for reelection. He has also routinely held campaign events where supporters were densely packed together, with many not wearing masks.  
In February he said, "I think the virus is going to be — it's going to be fine," and "Looks like by April, you know in theory when it gets a little warmer, it miraculously goes away." Later that month he said, "The Coronavirus is very much under control in the USA… Stock Market starting to look very good to me!"
Also in February, he said, "The 15 (cases in the U.S.) within a couple of days is going to be down to close to zero."
During Tuesday's debate, Trump said the U.S. is "weeks away" from a coronavirus vaccine.
Source: CNBC
Hot news of the day