Philippines' GDP slump eases to 11.5% in Q3
Nikkei | Cliff Venzon
Tuesday |

11/10/2020 09:53
---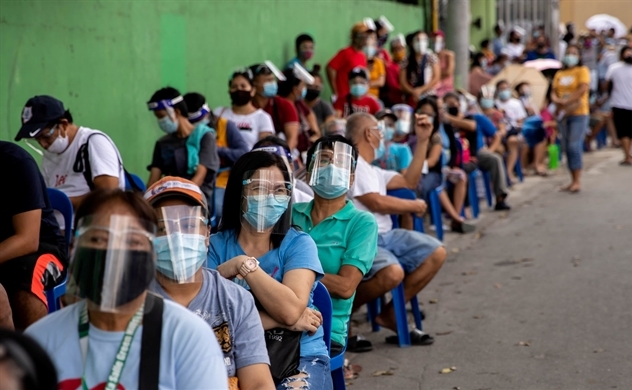 Filipinos queue for cash subsidies from the government amid the coronavirus disease outbreak, in Quezon City, Metro Manila in August. © Reuters
The Philippine economy shrank 11.5% in the third quarter from a year earlier, easing from a record contraction which plunged the Southeast Asian nation into its first recession in three decades.
The July-September gross domestic product figure, the country's statistics agency announced on Tuesday, is worse than the 9.8% contraction projected by analysts polled by Reuters, but represents an improvement from the prior quarter when the economic output shrank by 16.9%.
Acting Socio-economic Planning Secretary Karl Chua in August said the economy was expected to contract by 5.5% for the entire year.
Community quarantine restrictions in the country were loosened in June, paving the way for the reopening of more businesses and increasing capacity of public transportation. But government imposed a stricter lockdown for two weeks in August after doctors warned the health care system was being overwhelmed, derailing a stronger rebound.
The Philippines has recorded one of the highest COVID-19 infections in the region with over 398,000 cases, of which 29,000 are active, and 7,647 fatalities as of Nov. 9.
Recent strong typhoons, which destroyed billions of pesos worth of infrastructure and crops, threaten fourth-quarter recovery.
Source: Nikkei Asian Review
Hot news of the day