China says Q3 economic growth at 4.9% as rest of world struggles with pandemic
WSJ | Jonathan Cheng
Monday |

10/19/2020 12:59
---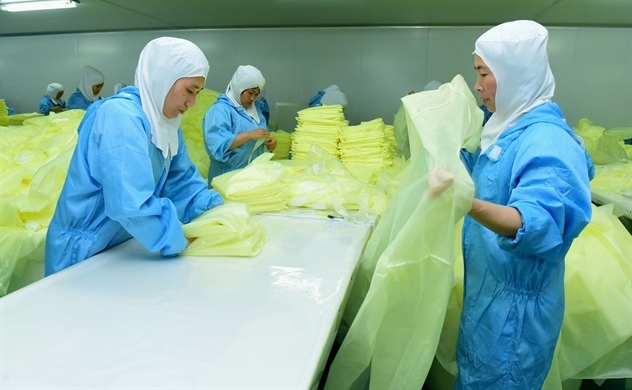 Workers at a medical-supply factory in China's Hebei province on Oct. 16. PHOTO: JIAMINJIE/ZUMA PRESS
Chinese officials said Monday that GDP expanded by 4.9% in Q3 from a year earlier, putting China's economy back toward its pre-coronavirus trajectory half a year after the pandemic gutted its economy.
The 4.9% growth figure for the third quarter fell short of expectations but brings China's trajectory closer in line with forecasts made at the beginning of the year for 2020 growth of between 5.5% and 6% - forecasts made before the pandemic swept across the globe, killing more than a million people and crushing the global economy.
The third-quarter expansion builds on the second quarter's 3.2% growth, which follows a historic contraction of 6.8% in the first three months of the year, when authorities locked down the central Chinese city of Wuhan in a bid to curb the fast-spreading virus.
The International Monetary Fund is projecting China's economy to expand by 1.9% in 2020, putting it on track to be the only major world economy to grow this pandemic-hit year.
By contrast, the American economy is expected to shrink by 4.3%, while the eurozone is forecast to contract by 8.3%, the IMF said in its latest update this month.
Monday's third-quarter growth number offers further evidence of China's relative strength and moves the country's economy into positive territory for the first nine months of the year, expanding 0.7% from a year earlier.
Other economic indicators released Monday offered additional signs of strength. China's headline unemployment figure, the urban surveyed jobless rate, fell to 5.4% in September, lower than August's 5.6% rate and Beijing's target of around 6%.
China revived its economy in roughly three stages: first, by shutting down most economic activity beginning in late January, a lockdown that lasted largely until the end of March.
Beginning in April, authorities sought to get factories revved up again. With production ramping up, China was able to increase its share of global exports, shipping medical equipment like face masks and sterilizer in addition to work-from-home computer equipment to customers around the world as other exporting nations suffered through their own lockdowns.
If the second quarter represented China's factory recovery, then the third quarter marked its consumer recovery, with authorities—having almost entirely stamped out the coronavirus within its borders—encouraging consumers to begin venturing outside of their homes and opening up their wallets.
In August, Chinese retail sales showed an increase from a year earlier for the first time in 2020. And on Monday, China said retail sales grew 3.3% in September, outpacing economists' expectations for 1.7% growth.
Source: WSJ
Hot news of the day