Vietnam's on-demand pay solution provider GIMO raises $1.9 mln in a Seed+ round
Khanh Minh
Tuesday |

11/23/2021 22:24
---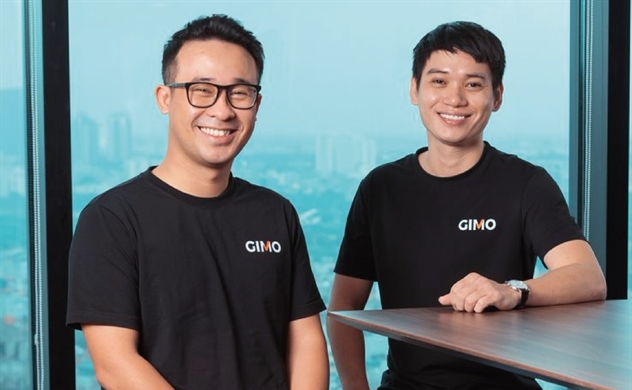 GIMO's founders. Photo:GIMO
GIMO, a fintech startup offering on-demand pay solution fir blue-collar workers, has secured $1.9 million in a seed financing round led by Singapore's Integra Partners.
Resolution Ventures, Blauwpark Partners, and TNB Aura Vietnam Scout also co-invested. The capital will be used to improve financial stability and accelerate financial inclusion throughout Southeast Asia, the company said in a statement.
The tech firm also plans to allocate a portion of the funding to hire more senior engineers, enhance risk management competencies, and leverage customer experience through advanced technologies such as data analytics and artificial intelligence.
The firm will benefit blue-collar workers who are among the most vulnerable to financial distress. When unexpected bills arise, they don't have a lot of safe and affordable options, GIMO's Co-founder and CEO Nguyen Anh Quan, adding "by helping workers get paid as they earn it, we hope to give them the peace of mind to focus on what matters."
Launched in early 2021, Gimo offers earned wage access to employees ahead of their payday, helping them deal with unexpected financial expenses. Workers can receive their salary almost instantly via a mobile app integrated with the company's payroll system.
Users could also keep track of their workdays and daily earnings in real-time, as well as receive personal finance tips. 
To date, GIMO has provided on-demand pay for more than 25,000 workers, mainly in manufacturing and retail sectors, growing monthly at 130 percent. In the long run, it is set to build a digital financial platform that empowers blue-collar workers to better organize their money, from paychecks to spending, savings, and investments.
In the long run, besides paycheques, GIMO aims to create a digital financial platform that will allow blue-collar workers to organise their money better — be it spending, savings, or investments.
Around 290 million people in Southeast Asia are unbanked or do not get access to formal financial services, aaccording to a Fitch Ratings report.
In Vietnam, nearly two-thirds of the adult population does not have a bank account, according to the World Bank's Global Findex Database 2017. To deal with their cash flow problems, they have to rely on expensive financial services such as long-term, large-ticket-size bank loans or high-interest-rate loans.
Earlier in March, the company just announced an undisclosed amount of seed funding from ThinkZone Ventures, BK Fund, and a group of angel investors.
Same category news