Vietnamese dating app flirts $10 bln market
Van Dat
Friday |

11/05/2021 10:24
---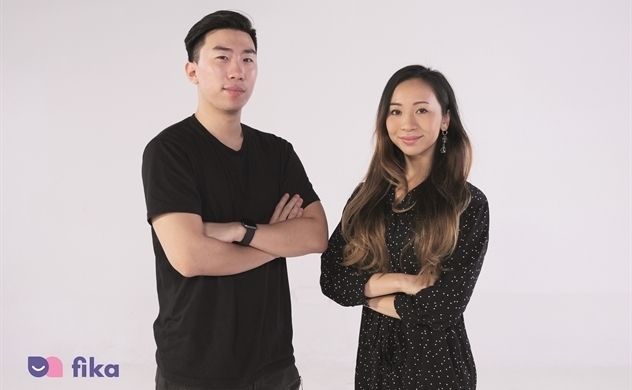 Fika's Co-founders Oscar Xing Luo (left) and Denise Sandquist (right). Photo: Fika
Home-grown dating app Fika seeks to end Tinder's dominance in Vietnam before entering the Asian market.
Two strangers meet in a virtual space and decide to stick together for a lifetime in the real world. It is not a story in a science fiction movie. It is a common thing in real life in the 21st century.  
Pham Vu Hai and Nguyen Ngoc Thanh Vy met in that situation. Impressed by the charming smile of the girl who was in a traditional ao dai when surfing a dating app called Fika, Hai immediately gave her a heart without hesitation. The forever-alone guy did not dare to think that he would be liked by the other side.
"I didn't even dare to think that I would be liked by Vy, let alone dream of staying beside her till rest of my life," Hai recalled when he found his girlfriend on a dating app he had just downloaded to his smartphone to kill free time during the pandemic lockdown.
Vy was impressed with Hai's appearance when she saw the image of him on the application. "His hair was long, just match my style. And he's also handsome. But at that time, I didn't think we would stick together like this," Vy shared.
Things got much faster thanks to the identity verification features on Fika. Millions of people around the world have met their partners and are firmly attached thanks to matchmaking technology like this couple.
Technological angel
Just within a few decades, dating has changed. While millennials use Yahoo Messenger to chat and stay connected. Earlier generations met through matchmaking or social activities. For people of Generation Z like Hai and Vy, in addition to Facebook and Twitter, know several other dating apps including Fika, a startup that has raised $1.6 million, Tinder, Bumble, Grindr, OkCupid.
The online dating industry has grown rapidly in recent years, but the idea of ​​online dating dates back to 1959 when two students of Stanford University matched 49 couples by using a computer questionnaire. This is considered the first matchmaking using technology in the world.
Six years after the innovation, the world's first online dating service was introduced to the market when two technology students of Harvard University created a program that helped users find their partners by answering a survey with 75 questions.
Thanks to the emergence of the internet, dating sites were built, creating the foundation for popular dating apps to attract millions users. Today, websites or online dating apps use complex algorithms to match millions of users together.  
Building on an existing foundation, in 2013, Tinder revolutionized the online dating industry with a fairly simple system. Instead of letting the system find the right person for users, this application allows users to choose their partners themselves.
Founded by Hatch Labs in 2012, the dating app reported $1.4 billion in revenue in 2020, up 18 percent from 2019. The app was valued at over $10 billion. With 66 million users, Tinder isn't the biggest dating app in the world.
Global online dating market valued at $10 billion
There are about 1,500 online dating sites and apps in the world, but the market is dominated by a few platforms. The industry's revenue has increased steadily year over year. This shows that the potential of this industry is still very large, according to eMarketer.
In 2020, online dating applications generated more than $3 billion in revenue. This figure is expected to increase to $3.3 billion in 2021. With impressive growth momentum, experts believe that the industry's revenue could reach $4.3 billion by 2023 and $5.7 billion by 2025.
Meanwhile, data from Statista shows that the number of global dating app users has reached 270 million. Five years ago, the figure was only about 185 million. Despite the negative impact of the COVID-19 pandemic on the global economy, the revenue of this market is forecast to have an annual growth rate of 8.44%. The size of the online dating market is forecast to reach over $10 billion by 2026.
Potential of Vietnam market
In Vietnam, several people used to use Yahoo Messenger to text and chat with their friends and people they never met in real life. Earlier, when there was no internet, people mainly met each other in real life.
What is the reason for Fika to invest in the Vietnam market and choose this market as a base for Asia market? A survey result by Datareportal shows that Vietnam's internet coverage rate reaches over 70% of the population with 68.17 million users. Between 2019-2020, this market added 6.2 million internet users, an increase of 10%.
Vietnam has 65 million social network users as of January 2020, and the figure kept increasing by 5.7 million people, equivalent to an increase of 9.6% in the period between April 2019 to January 2020.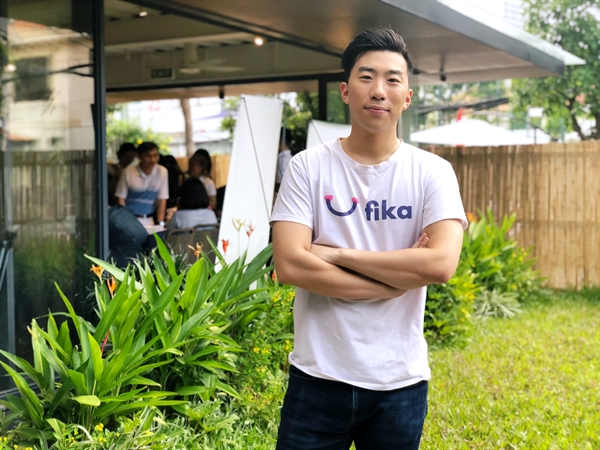 Fika's Co-founders Oscar Xing Luo. Photo: Fika
The young population is among the reasons motivating Vietnamese-Swedish woman - Denise Sandquist (Vietnamese name is Tran Thanh Huong) to create a dating app Fika in Vietnam. According to Statista, the revenue of the online dating segment in Vietnam is expected to reach $28 million in 2021, with an annual growth rate of nearly 12%. It is expected that by 2025, the market size will reach $44 million.
The number of dating app users in Vietnam is expected to reach 4.8 million by 2025. User penetration will be 4.1% in 2021 and is expected to reach 4.8% in 2025. The average revenue per user is expected to top $6.9, according to Statista.
From a global perspective, a large portion of this segment's revenue is generated in the US, but Denise Sandquist, the co-founder of the dating app Fika, believes that the dating app market in Vietnam has huge potential.
Currently, Fika is focusing on Vietnam, a market of 100 million people with an average age of 32. Most of the foreign dating apps available in this have difficulties in accessing users and retaining them due to cultural differences. The demand to connect and learn of Vietnamese youth is large, said Denise Sandquist.
"In the era of technology, everyone has a smartphone. They use mobile apps to make friends, date, and stay connected with people. Everybody has demands to learn and stay in touch with someone. So do people living in Vietnam and other Asian countries", said Sandquist.
"We understand very well the invisible pressures of Asians about choosing a life partner to love, trust, get married, have children, so we wanted to create a solid foundation to help users do this in a safe environment," she said.
Fika is developed to direct users to a real connection, a real experience. Therefore, 100% of profiles on the application are real people profiles. Currently, only Fika requires users to authenticate information.
In addition to the potential of the market, Denise has another reason. She created Fika because she wanted to do something for the place where she was born. Adopted to Sweden since she was just 3 weeks old, she wanted to find her biological mother in Vietnam. She received support from hundreds of thousands of strangers in Vietnam.
Through social network apps, she finally found her biological mother. The idea of ​​​​founding Fika was ignited from the fact that she found her biological mother in a short period of time thanks to the enthusiastic support from the online community.
"I told the idea to my close friend and we agreed to make a dating application. We chose Vietnam as the first destination," Denise recalled.
According to unofficial statistics, there are about 100 online dating apps in Vietnam. However, most of them are developed by foreign companies. Foreign dating apps available in the Vietnam market have difficulties in accessing users due to cultural differences.
Talking about cultural differences when it comes to dating, Denise said that young people from Asian cultures tend to look for stable, meaningful relationships rather than short-term. The Fika co-founder wants her app to promote this culture. This app has a feature that helps users choose what they are looking for when using the app, and up to 70% of users choose to look for a serious relationship.
Based on Fika's core value of empowerment, Denise and the Fika team have created admirable feats together. Since its official launch in September 2020, Fika has achieved over 750,000 downloads.
To end Tinder dominance in Vietnam
Although being established in June 2020, Fika has great ambitions, which is to end the dominance of Tinder in Vietnam and become the top application in the subconscious of Vietnamese users. Users will think of Fika when they think of downloading a dating app.
Denise wants people to remember Fika as a safe, female-focused app. Growing up in Sweden, one of the countries that always upholds gender equality, especially the role of women in society, the founder of Fika understands very well the value of feminism.
Fika is more than just a dating app. Denise and Oscar's idea of ​​an app that empowers female users makes Fika even more meaningful. Recently, the world's first AI-powered female-focused networking platform successfully raised $1.6 million in a seed funding round led by VNV Global with the participation of a series of other reputable angel investors and entrepreneurs.
Fika is planning to expand to other parts of the Asian market before going global. "Fika is always doing its best to help users connect with meaningful relationships and the only way to create and maintain these real values ​​is to create a platform where women can have more voice, more security," said CEO and co-founder Denise Sandquist.
With the newly raised capital of $1.6 million, Fika will be developed towards integrating artificial intelligence, community building, growth, and brand awareness of Fika across Vietnam.
After achieving the leading position in Vietnam, Fika's goal is to expand to Southeast Asia, and once the connection process can be personalized on the app, Fika will expand globally to become a leading mobile application. The world's leading AI-powered dating and matchmaking app.
Since the COVID-19 pandemic occurred and many countries applied social distancing measures in March 2020, more people started using online services for communication and entertainment, said Vincent Yip, analyst of eMarketer. Tinder users increased by 52% in April 2020 compared to the previous month.
Fika was introduced just in time. The COVID-19 pandemic has helped this application receive great attention and growth from users and is expected to reach 1 million downloads by the end of 2021.
Same category news