Vietnam EV startup powers Grab, Lazada delivery via battery 'ATMs'
Lien Hoang
Friday |

05/26/2023 14:59
---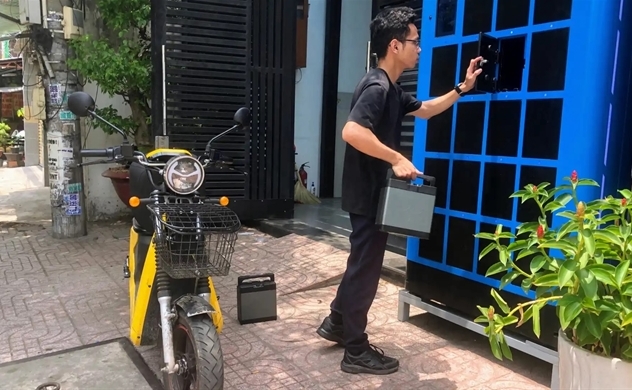 Electric cars get the limelight but electric scooters may be key to ditching fossil fuels in places like Vietnam, one of the world's biggest motorbike markets. Photo by Lien Hoang.
The startup behind it hopes the system will save enough time and money to win over Southeast Asians driving the region's 240 million gas-guzzlers.
Selex Motors, backed by the Asian Development Bank, said its bikes cost less than $1,000 because buyers do not pay for the batteries upfront. Instead they use a network of automated lockers to swap batteries when power is needed, paying as they go -- essentially battery ATMs.
Selex said it sells the electric vehicles to Lazada, DHL and other delivery businesses that have pledged to reduce their carbon emissions. Billing itself as the region's first EV maker to target last-mile logistics, the startup is expanding to consumers and touting its patented battery technology as compatible with 70% of electric scooters on the market.
CEO Nguyen Nguyen, who once held a top-secret aerospace job, said in an interview that the swapping infrastructure serves the public good, especially as the global EV revolution prompts concerns about how to secure metals for batteries, optimize their life spans and dispose of them responsibly.
Schneider Electric Energy Access Asia, ADB Ventures and Vietnam's Touchstone Partners are among the investors that have pumped a total of $5.5 million into Selex, according to Crunchbase. Its rivals looking to electrify Vietnam's 70 million motorbikes include Dat Bike, which received some free publicity when a "Game of Thrones" actor recently rode its scooter, and VinFast, which produces EV cars and bikes under the powerful conglomerate Vingroup.
"For customers also it's beneficial, and for manufacturers, if we have a standardized battery," Nguyen said. Exclusivity "doesn't make sense," he said, because energy infrastructure "belongs to the public."
Not everyone follows that philosophy. Tech titans have tried to lock customers into their ecosystems, compelling authorities to step in. The U.S. pushed Tesla to open its charging stations to other cars, while Europe forced Apple to make phone chargers interoperable with those of its peers.
When asked if Selex's compatible batteries could encourage drivers to buy competing EVs, Nguyen said, "That's the whole point. We want the battery-swapping network to be shared and commonly used because that helps overall."
There's a bike for every budget in Vietnam, where it's possible to nab an old moped for $500, or splash out on a new model for 100 times that price.
Delivery vehicles are just one corner of a small EV market in Vietnam, which has been slower than its neighbors to take up electric cars. Besides EV taxis, buses and other public transit, United Nations advisers have said it makes most sense to electrify two-wheelers in a country teeming with motorbikes.
After the interview, Nguyen walked out onto a sundrenched street to a blue battery locker about the size of a fridge in front of his Ho Chi Minh City office, where he demonstrated how a courier for Grab, Baemin or Viettel would use the network: After dropping off a parcel or passenger, the driver sees on his phone that the bike's battery is losing juice. He taps the phone to locate a locker and, once there, to open it and switch out the battery.
Logistics are "the blood vessels" of the economy, said military-owned mail courier Viettel Post, which is adopting electric trucks and bikes, including Selex's.
This strategy is "contributing to reducing emissions to the environment while still providing optimal transportation performance," Dinh Thanh Son, deputy director at Viettel Post, told Nikkei Asia.
Alibaba-owned Lazada gave input in developing the Selex bikes, which are used in its e-commerce deliveries.
"Thanks to its unique design, Lazada Logistics' e-motorbikes offer exceptional transportation capacity [in terms of weight and volume] and are highly convenient to operate with" battery swaps, the company told Nikkei. They also have lower transport and "maintenance costs than regular gas-powered motorbikes."
The bikes can hold three batteries, made from Samsung or LG cells, and be modified to ferry packages or people. Lazada uses a different swapping network in Indonesia, where it also deploys bicycles and subsidizes some drivers' EV payments.
Nguyen hopes to break even in three years and enter Indonesia and Thailand in two years. Both countries have bigger economies than Vietnam, but also competitors like Gojek-backed Electrum, which told Nikkei it aims to supply 2 million e-motorbikes by 2030.
Gojek, for its part, is going electric in Vietnam, too, where it inked a deal with Dat Bike last week to provide EVs. That follows ride-hailing rival Be Group's similar deal to secure VinFast EVs in March.
Nguyen would not say how many bikes his company has sold. Vietnam has more than 1 million electric scooters, believed to be the most in Southeast Asia.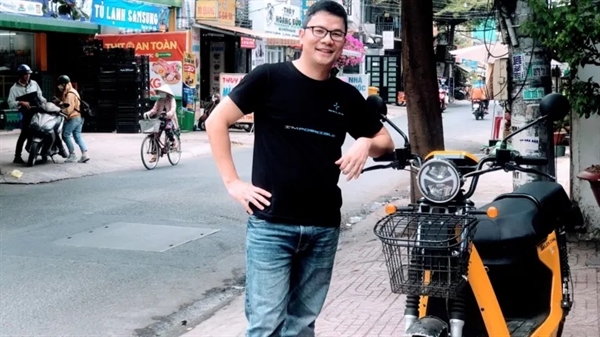 Selex CEO Nguyen Nguyen dislikes "walled gardens" in which companies require accessories that don't work outside their networks, such as batteries or chargers. Photo by Lien Hoang.
With two friends, Nguyen founded Selex after working for the government, researching highly classified defense products he would not discuss even with his wife.
In a company T-shirt declaring, "I'M POSSIBLE," the engineer said Selex would use customer data to expand the business beyond energy as a service, though drivers may opt out. New services could include predictive maintenance and selling add-ons, like insurance, he said.
Besides competing with deep-pocketed giants going electric, from Honda to Piaggio, Nguyen noted the arduous race for battery metals. Vietnam is ramping up its rare earths development, but China leads in mining and processing the metals, while the world relies on Congolese cobalt and Indonesian nickel.
"It's going to be a long-term problem, because it seems like the revolution is depending on resources, on certain minerals, and it's not really well spread [out]," Nguyen said. "It's heavily located in a few countries, and that will depend on geopolitics."
Source: Nikkei Asia
Same category news