Vietnam education firm's tech products selected by ADB for business training program
Bich Phuong
Monday |

12/07/2020 22:19
---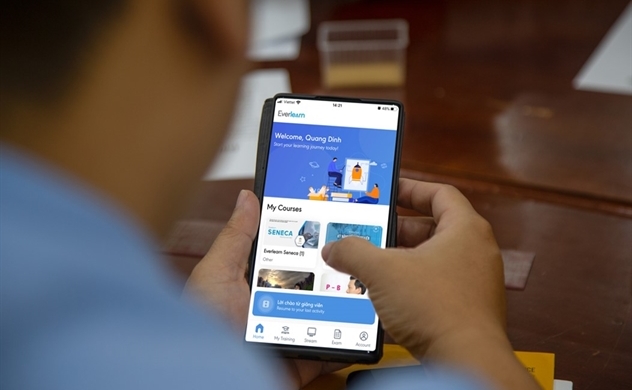 Learners can easily access learning module and study with their own pace with internet-connected devices. Photo: MVV Education
Asian Development Bank has selected Consultant Anywhere and Everlearn, two technology products of MVV Education, to implement a specialized COVID-19 business counseling and training program for 500 women-owned SMEs in Vietnam.
The ADB program entitled Specialized Business Counseling and Training Program for Women-owned Small and Medium Enterprises will focus on providing tools to excel their capacity management and skillset to run their businesses successfully during the COVID-19 pandemic.
The lack of specialized business training programs created barriers for Vietnamese WSMEs in being recognized and represented even though they potentially play a key factor in economic development.
It's why ADB contracted with MVV Education to deliver a counseling program for 500 Vietnamese female leaders with businesses affected by COVID-19.
The program aims to give them training in various business aspects, financial advisory services, and technical knowledge to mitigate the impact of the economic downturn.
Components of the program include recruitment with screening and registration for WSMEs, business counseling using the Consultant Anywhere app, offline and online training using the Everlearn platform, and mentoring with peer support using the team's network.
Consultant Anywhere is the first consultation app in Vietnam that connects experts from various fields with businesses.
The app enables consulting services to be delivered via smartphone from anywhere anytime with easy scheduling, online payment, and record-keeping with a video-call feature. While Everlearn is a learning experience management system that helps organizations conduct and manage training more professionally, economically, and effectively.
MVV is a leading provider of business and capacity building solutions uniquely delivered through multiple platforms that enable fully-integrated and seamless online and onsite interactions.
Belonging to a group of 10 companies based in Hanoi and Ho Chi Minh City, MVV's coaches and consultants are leading experts in Vietnamese and international business management fields.
Hot news of the day
Latest news