'Sharks' refuse to invest in top 2 dating apps
Trong Dat
Friday |

06/17/2022 15:45
---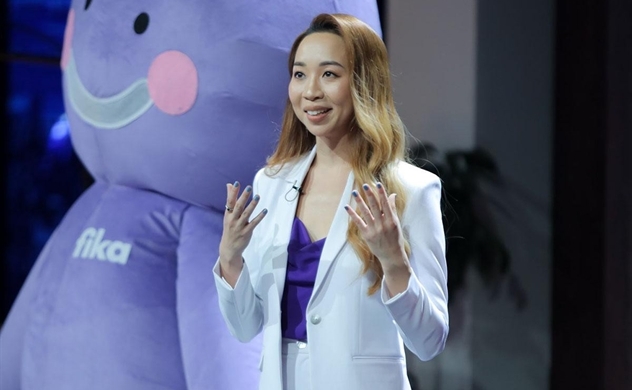 The dating app Fika, valued at $150 million and striving to become the next technology unicorn of Vietnam, has been rejected by investors at the Shark Tank TV show.
Fika is run by a startup founded and managed by Denise Sandquist (Tran Thanh Huong). Fika is artificial intelligence (AI), social network, and dating app, created based on an inspiration she had when returning to Vietnam to seek her biological mother and receive support from the Vietnamese community, Denise Sandquist said.
The app made its debut in late 2020. It has had 1.5 million downloads and is the second-largest dating app in Vietnam with 100,000 users monthly. This is top-tier free dating app on Google Play and ranks fourth on App Store Vietnam in the life app category.
Citing the rapid development of Tinder, Bumble, and TanTan, Fika's CEO said she could see a great opportunity in the market. Therefore, she and Oscar, the co-founder, developed Fika, targeting Asian clients.
Compared with other dating apps in the market, Denise's app addresses female users with the association of astrology, Tarot cards, personality testing, and integrated AI. All Fika users are authenticated.
The app collects a subscription fee to create revenue. At first, people can use the app for free, but if they want to use the packages at higher levels, they will have to register and pay a fee.
"For dating apps, about 10-15 percent of real users pay for registration packages. Fika has set the fee of VND150,000 a month, which is lower than that of Tinder in Vietnam," Denise said. "This is a profitable business model."
The founder came to Shark Tank Vietnam to call for an investment of $3 million in exchange for 2 percent of Fika's shares. She believes that with the new investment, her startup would become the next technology unicorn.
Answering questions from the sharks, Denise said the authentication is done manually by 40 officers. However, this answer could not satisfy sharks.
Shark Binh commented that this is not an optimal solution. There are AI algorithms that automatically verify photos on IDs or passports, or some real-time face scanning methods. When Denise said Fika wants to invest money to develop technology of its own, Binh said the investment is not necessary.
Asked about the company valuation of $150 million while the company still cannot have revenue, Denise compared Fika with other dating apps such as Tinder and Bumble. However, Shark Binh said the comparison is unconvincing because the other apps can make money, but Fika doesn't. 
Source: VietnamNet