Online food ordering rises sharply by 72% in the first 6 months of 2022
Dai Le
Wednesday |

08/03/2022 14:12
---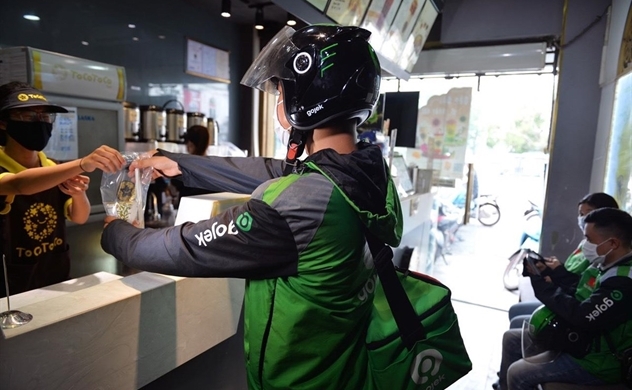 Gojek driver picks up food at the restaurant to deliver to customers. (Photo: PV/Vietnam+)
The total number of online food ordering on GoFood in the half of 2022 increased by 72% compared to the previous period in 2021, according to Gojek.
In the first half of 2022, the number of users ordering food on the GoFood increased by 66% from a year earlier. 
Users also tend to place orders with a higher total value. In the first 6 months of 2022, the average value of each order on GoFood increased by 23%, and the average revenue of GoFood partners increased nearly 3 times compared with the same period last year.
After easing social distance regulations in Vietnam. The number of merchants operating on GoFood climbed by 83% in the first half of 2022 over the same period. In June alone, the number of new stores on the platform increased by 21% from the previous month and increased by 31% compared to the average of the first 3 months of 2022.
Ms. Le Nguyen Ngoc Dung, director of Gofood, said that the growth in revenue of restaurant partners on Gojek is a good sign of the recovery and prosperity of the economy. 
On the Gojek side, the company has focused on supporting partners such as creating a completely free online registration platform, creating conditions for restaurants to easily participate in business on GoFood; launching and promoting the application of GoBiz, an order management platform to help GoFood restaurant partners optimize the online food delivery process and develop effective business; provide analytical data about business activities and open programs to support partners to expand customer, enhance brand image, and increase sales.
Source: Vietnam+
Same category news