No subsidy for rich electric car buyers: finance ministry
Tri Duc
Monday |

09/11/2023 10:22
---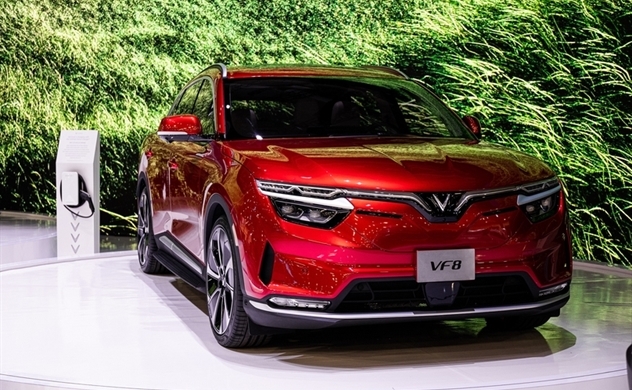 VinFast's VF8 electric vehicle. Photo courtesy of the company.
Vietnam's Ministry of Finance has said a firm no to a Transport Ministry proposal that $1,000 be given in aid for each electric vehicle (EV) purchase.
The state budget is prioritized to serve poor people and people in remote areas, while EV buyers are mostly wealthy people, the finance ministry explained.
As the budget is limited and the country has other priorities like infrastructure development, social welfare and hunger and poverty elimination, the transport ministry's suggestion is not suitable at the moment, the finance ministry added.
In a draft policy on facilitating the nation's transition to EVs and stopping the use of fossil fuels, the transport ministry suggested lower taxes and fees as well as aid of $1,000 for each EV purchase.
The finance ministry also rejected the proposal that preferential tax policies are issued for EV imports, saying such a policy would negatively impact the domestic auto industry, add pressure on the country's traffic infrastructure and reduce the state budget's revenues.
On preferential tax policies for manufacturing and assembly of EVs and EV batteries, the ministry said such products were already subject to low taxes under some schemes. Therefore, the effectiveness of such policies has to be studied more carefully.
On charger components, the ministry repeated that preferential import tax policies were already in place. It urged the transport ministry to work with other ministries on adding more locations to install charging stations.
Vietnam's emergence as a major electric vehicle (EV) market in Southeast Asia has been reflected in the rush of new models being introduced by leading automakers looking to tap rising demand as the nation proceeds towards its 2050 zero emissions target.
Source: The Investor