Joint efforts required to develop semiconductor manpower
VNA
Monday |

11/20/2023 12:00
---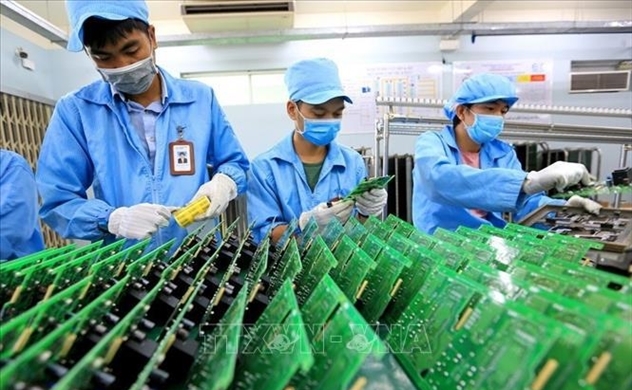 The semiconductor industry in Vietnam requires about 50,000 engineers in the next 10 years. Photo by VNA.
In Vietnam, the semiconductor industry is believed to hold huge potential for making breakthroughs to help with fast and sustainable economic development, but the shortage of manpower is posing a huge challenge.
SEMI SEA, a Southeast Asian association serving the manufacturing supply chains for the microelectronic, display and photovoltaic industries, estimated the global semiconductor industry's revenue in 2022 at almost 600 billion USD. The global semiconductor market will see double-digit growth rate in the coming years to reach 1 trillion USD by 2030.
SEMI SEA President Linda Tan said the market in Vietnam is predicted to expand by 6.12% during 2022 - 2027, noting that together with increased investment in the semiconductor industry, Vietnam is likely to become a partner of many big countries in this field.
As the semiconductor industry, the basis for manufacturing electronic products, is currently one of the fastest growing areas, its manpower demand is also surging.
Minister of Information and Communications Nguyen Manh Hung said that each year, the country needs about 150,000 engineers for the information technology and digital sectors, but only 40 - 50% of the demand has been met. Notably, less than 20% of the semiconductor industry's annual demand for 5,000 - 10,000 engineers has been satisfied.
The big manpower shortage, over 80%, is a major problem needing to be addressed as more than 50 FDI businesses have invested in this industry in Vietnam and they are in need of a large number of personnel.
Experts forecast the semiconductor industry in Vietnam requires about 20,000 personnel holding the bachelor's or higher degrees in the next five years and about 50,000 engineers in the next 10 years.
Assoc. Prof. and Dr. Hoang Minh Son, Deputy Minister of Education and Training, said though the semiconductor area is not a new training branch, the number of students and graduates remains very low, leading to a manpower shortage in terms of both quantity and quality.
Facing that fact, the Ministry of Education and Training is building an action plan to step up training to increase the quantity and quality of human resources, particularly integrated circuit (IC) designers, for the sector.
Vietnam has more than 5,570 IC engineers at present, over 85% of whom are in Ho Chi Minh City, 8% in Hanoi and 7% in central Da Nang city. Every year, only about 500 - 600 students graduate from semiconductor training courses of domestic universities, according to data from the National Science and Technology Information Portal.
To quickly raise the number of semiconductor engineers, Son suggested training students who are enrolling in close branches such as electronics engineering, electrical engineering, automation, and mechatronics engineering into those specialised in semiconductor engineering in order to increase the graduates for this field to 3,000 - 4,000 each year.
In addition, many electronics and telecommunications graduates have experience in working for IC and semiconductor-related companies. If receiving more specialised training, they can become a source of high-quality manpower for the industry, he said.
The Deputy Minister also considered re-training the engineers of close branches as a measure for quickly increasing new semiconductor personnel to 5,000 - 6,000 each year.
In mid-October, the Posts and Telecommunications Institute of Technology, the Vietnam National University HCM City (VNUHCM), the Vietnam National University Hanoi, the Hanoi University of Science and Technology, and Da Nang University signed a deal on cooperation in developing high-quality human resources for the semiconductor industry. This is a basis for them to boost collaboration in scientific research, technology transfer, and innovation in the field, and enhance cooperation with semiconductor businesses.
Assoc. Prof. and Dr. Tran Le Quan, Rector of the VNUHCM University of Science, perceived that the country needs to form some training and internship programmes on IC, micro-electromechanical systems engineering, and electronics engineering in which universities can coordinate with semiconductor firms to meet research and development demand.
Vietnam is drafting a strategy for developing the semiconductor industry by 2030 with a vision to 2035.
Deputy Minister of Information and Communications Nguyen Huy Dung expressed his hope that Vietnam will have the opportunity to participate more deeply in the global semiconductor supply chains by implementing national strategies and building trust during the international cooperation process to attract investment.
As the country wishes to become a centre of semiconductor human resources for not only itself but also the region and the world, he emphasised the need for joint actions by the Government, associations, organisations, businesses, and especially domestic and foreign universities.
The official said he hopes that with the Government's attention and common efforts by training institutions and technology companies, the manpower shortage will be addressed so that the industry can develop and fuel the Vietnamese economy in the near future.
Source: Vietnamplus
Same category news