In Vietnam, food delivery, ride-hailing apps embrace EVs
Bao Anh - Cong Trung
Friday |

04/28/2023 12:05
---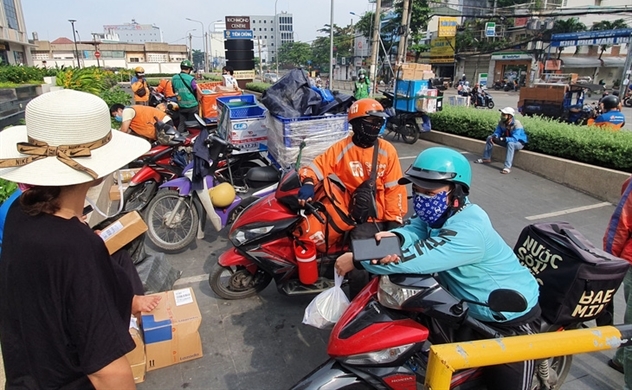 Drivers of different tech-based delivery services wait for customers in front of a building in Vietnam. Photo by Cong Trung/Tuoi Tre.
Two food delivery and ride-hailing applications operating in Vietnam, Be and Baemin, have turned to electric vehicles (EVs) as a more eco-friendly means of transportation for their fleets.
Baemin is the latest to join this trend following an announcement on Wednesday, when the German-owned South Korean food delivery service said it is cooperating with Vietnamese firm Selex Smart Electric Vehicle JSC to launch an electric motorbike delivery fleet.
Selex will directly hand over electric motorcycles to drivers with good delivery records and provide instructions on how to use them and change their batteries through a mobile app.
Drivers who use the Selex EVs can swap the battery at an exchange station, which will be faster than recharging the battery and can be done in less than two minutes.
The two firms believe that the use of electric motorbikes will help optimize the delivery service and cut operational costs by 40 percent.
Baemin, which was founded by South Korean unicorn Woowa Brothers before being subsequently acquired by Germany's Delivery Hero, followed in the footsteps of Be Group, a major player in Vietnam's ride-hailing market.
In March, Be and Vingroup's Green and Smart Mobility Joint Stock Company (GSM), which launched Vietnam's first EV taxi service earlier this month, signed a cooperative agreement to introduce electric cars and motorbikes.
Under the agreement, GSM will assist Be drivers in converting petrol vehicles to electric ones.
During a shareholder meeting on Tuesday, Vietnamese taxi giant Vinasun Corp's deputy general director Tran Anh Minh also discussed the possibility of introducing electric taxis and stated that it is one of their goals for this year.
Source: Tuoi Tre News