Gaming startup VNG aims to launch Vietnam's answer to ChatGPT
Lien Hoang
Wednesday |

11/15/2023 14:44
---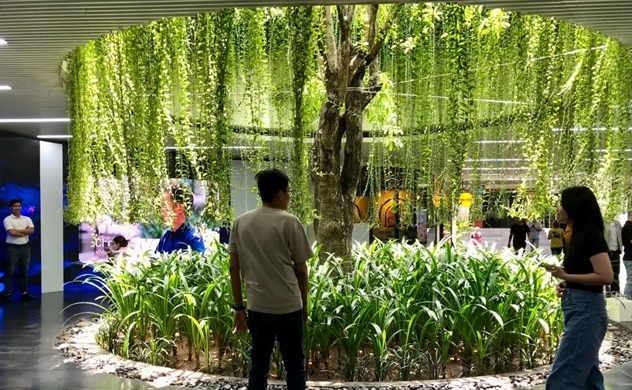 Photo by Lien Hoang.
Vietnam's VNG plans to roll out a ChatGPT-like artificial intelligence service tailored for speakers of Vietnamese as the gaming company searches for a new cash cow.
The tech unicorn, backed by Tencent and Alibaba's Ant Group, already has a chat app that is more popular in its home market than Facebook and recently expanded it with a translation function. VNG said it next will add a generative AI feature, which could allow users to do everything from writing emails to finding answers to queries.
Locals flocked to ChatGPT earlier this year but said the chatbot's replies in Vietnamese were less accurate than those in English, leaving room for a domestic challenger in the fast-growing market of 100 million.
In August, VNG filed for an initial public offering on Nasdaq -- the venue for Vietnamese EV maker VinFast's IPO the same month -- but then shelved the debut amid "challenging" stock market conditions. An overseas listing would put Vietnam's strict capital controls to the test.
"I want the world to clearly see there's a company that deserves the title of 'global technology company' that is based in Vietnam," VNG founder and CEO Le Hong Minh told Nikkei Asia. "The strength of VNG is we're both romantic and practical at the same time."
He would not comment on the IPO timeline.
VNG said in the August filing with the U.S. Securities and Exchange Commission it was building a Vietnamese large language model for "content creation, language translation and chatbots."
Analysts, however, say digital censorship -- an ongoing issue in Vietnam -- creates a hurdle for large language models, which are trained on mountains of text data.
Founded in 2004, VNG has grown from a video game publisher to a group spanning 34 subsidiaries, with businesses including fintech, data centers, the Zing music service and Zalo, a messaging app with 75 million users.
Beyond creating a ChatGPT rival, the company has an array of other uses for AI: powering an Alexa-like voice assistant, generating visuals and sound in games, and reading face scans for entry to its Ho Chi Minh City campus.
"We try to incorporate AI into all our products, whether it's games or Zalo or payments or cloud," Executive Vice President Vuong Quang Khai, who has led VNG's move into AI, told Nikkei.
Minh said new regions are challenging the decades of U.S. dominance in the tech industry, describing it as a "natural evolution" that there would be "a lot of companies coming out of different countries." A prime example, he said, is the diversity in semiconductor chips, a sector with giants in Taiwan, South Korea and China, as well as the Netherlands and the U.K.
He is among the executives who are trying to push Vietnam into the tech leagues and past its image as a postwar communist country.
For VNG, that requires long-term strategies, especially as the areas where it faces the fiercest rivals are two of its newer businesses: data centers and developing its own games instead of licensing content from others.
The company has not found a profit driver to cut its external reliance on games, which bring in 80% of its revenue. Game royalties are one of its biggest expenses, costing 784 billion dong ($32 million) in the first six months of the year, slightly more than it spent on salaries. Besides increasing the games it creates in-house and sells abroad, the startup will try more "cross-selling," such as converting players into ZaloPay wallet users when they make in-app purchases.
ZaloPay, meanwhile, is a loss leader that gives users perks for making purchases in a push to gain market share against Momo, GrabPay and other apps that have "greater financial resources than we do and are able to incentivize users," its SEC filing said.
The company reported a loss of 650 billion dong in the first half of 2023, versus a loss of 390 billion dong a year earlier.
Its filing also said its corporate structure is "unprecedented and has not been tested in any court." It plans to list its Caymans-registered holding company, which has a stake in VNG Corp. of 49% -- Vietnam's limit on foreign ownership -- plus a 21% indirect interest.
Temasek's Seletar, GIC, Tencent and Ant Group are slated to receive shares once VNG goes public.
"Foreign investment restrictions are always a concern, as well as outbound investment requirements," so "a myriad of structures have proliferated," Nu Thi To Nguyen, an associate at the law firm Tilleke & Gibbins, told Nikkei.
VNG used to have one of the most-read outlets, Zing News, which Vietnam suspended in July with little explanation. The one-party state is among the world's most restrictive environments for news media and social media, often demanding organizations in both sectors block unfavorable content.
"Any country is going to have regulations to make sure that the online content is safe," Minh said when asked about such policy risks.
"VNG Cloud may benefit from a 'home court' advantage" because Hanoi requires data to be stored on "servers located within Vietnam," the SEC filing said.
But it warned, too, that the internet company will need state consent to transfer data abroad, user consent for advertising, and other steps under local privacy laws that may "negatively" affect the business.
In Vietnam, 90% of those online use Zalo, compared with 77% for TikTok and Facebook Messenger, according to DataReportal. It said the Southeast Asian country had 78 million people online as of January.
Source: Nikkei Asia
Same category news