F88 receives the Gold Certificate of Customer Protection
Khanh Minh
Tuesday |

06/28/2022 15:26
---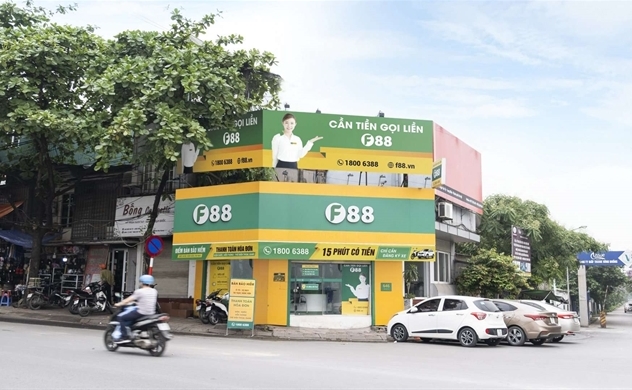 Photo: F88
Meeting 7 strict criteria set forth by Smart Campaign (USA), Vietnamese consumer loan provider F88 received a gold certificate of Customer Protection Certificate.
This is the second time, F88 has received this honor. Seven criteria of Smart Campaign that F88 meets are Suitable products; Prevent excessive bad debt; Transparency; Responsible pricing; Respect customers; Privacy and customer data; Complaint handling mechanism.
The above criteria were established by Smart Campaign in 2013 and coordinated with auditing units such as M-CRIL, MFR to assess compliance at microfinance enterprises, thereby awarding Certificate of Insurance protect customers.
In Vietnam, in September 2019, F88 was the first financial institution to be awarded the Customer Protection Certificate, valid until October 2021. Recently, this business has received a notice to extend the certificate until June 2025.
Due to meeting more than 95% of the total criteria, F88 was awarded a gold certificate - the highest level in the certification system. Up to now, this is still the only financial institution in Vietnam to receive this prestigious certificate.
A representative of F88 said that there are 6 over 7 criteria, including suitable products; transparency; responsible pricing; respect customers; Protecting customer privacy and resolving complaints has been present in all of our transactions for many years.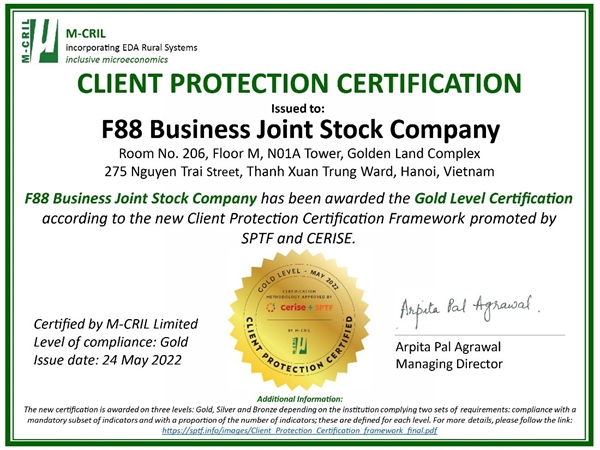 F88 - Vietnam's only microfinance institution to receive a gold certificate for customer protection.
That is the comparative advantage, the value of the corporate culture that F88 has worked so hard to build. All customers when using the service at F88 are advised by the staff in detail on how to borrow, loan term and loan amount in accordance with each person's ability to pay.
All customer information is strictly confidential. Debt settlement activities are conducted internally on the principle of understanding, respecting and creating the best conditions for customers to repay their debts.
In the condition that Vietnam's microfinance market is still in its infancy, many customers are still afraid to access non-bank loans, this is the most effective way. In addition, despite the complicated developments of the COVID-19 epidemic, the total credit risk in the past three years has remained below 1%, helping F88 meet the criteria of preventing excessive bad debt.
From the above business results and operating principles, internal resources, in October 2021, F88 was assessed by Fiin Ratings as BBB - a promising and stable level.
Currently, F88 has developed nearly 700 stores nationwide, providing a variety of convenient financial services from loan product packages to services such as collection and payment agency, insurance distribution and many other convenient services… F88's main customers are unskilled workers and those who do not have a bank account and cannot access financial services.
Same category news