Digitalization to create potential value of $27 trillion: Huawei
Khanh Minh
Monday |

05/23/2022 14:17
---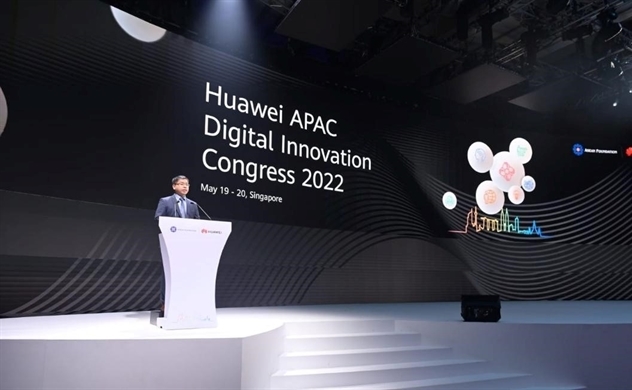 Mr. Nicholas Ma, President of Huawei Asia Pacific Enterprise Business had his speech in the event. Photo: Huawei
Digitalization is expected to transform production systems in all industries and creating potential value of $27 trillion, Huawei leaders told a recent conference.
Digital economy and digitalization is expanding rapidly in the Asia Pacific region, benefiting from the government's visionary digital strategy and the joint efforts of participants in a wide range of industries, said Nicholas Ma, President of Huawei Asia Pacific Enterprise Business.
During Huawei Asia Pacific Digital Innovation Congress, leaders of the Chinese tech giant joined industry partners to share the economy opportunities of the region and signs 17 MoUs to achieve new collaboration.
More than 1,000 business elites from various industries and government officers in the Asia Pacific region attended the event, sharing the challenges and practices in using innovative technologies to tackle challenges in digital transformation.
"We are looking forward to working with our partners to foster an open industry ecosystem and drive shared success in Asia-Pacific," said Ma.  
Through continuous innovations, Huawei aimed to be the key contributor to digital economy in Asia-Pacific, through accelerating the digitalization of industries, and seizing the digital economy opportunities with all industry partners together.