Boom in e-wallets, contactless payment amid pandemic
Thanh Thanh
Tuesday |

08/24/2021 12:07
---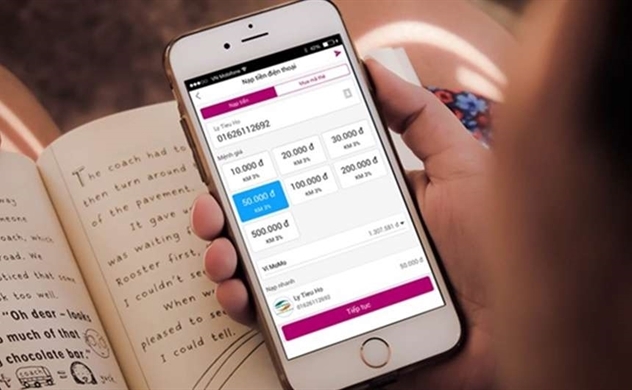 Cashless payments have become popular since the outbreak of the Covid-19 pandemic
Since the beginning of the year, the State Bank of Vietnam has licensed five non-bank institutions to provide intermediary payment services, increasing the total to 44.
The intermediary payment market has witnessed the entry of the ZION Joint Stock Company, the owner of ZaloPay. In addition, the MobiFone Telecommunication Corporation has also launched a MobiFone Pay e-wallet, while Vietnam Post is providing intermediary payment services through its VietnamPostPay platform.
The participation of new members and the increase in contactless payments during the pandemic have resulted in an unprecedented e-wallet market boom.
According to the National Payment Corporation of Vietnam (NAPAS), the system processed more than 800 million transactions in the first five months of the year, or over VND8,000 trillion, an increase of 113 percent in volume and 169 percent in value compared to a year ago.
Pham Tien Dung, director of the Payment Department under the State Bank of Vietnam, said the number of e-wallet transactions is almost equivalent to bank transactions, although their value is much lower. Data show that the number of people using e-wallets and cashless payments has increased sharply in recent years, especially since the Covid-19 outbreak. Specifically, more than 85 percent of consumers have at least one e-wallet or payment application and more than 42 percent of consumers use contactless payments with their mobile devices. In particular, 71 percent of users pay through e-wallets or payment apps at least once a week.
Diversification of utilities
Visa Country Manager for Vietnam and Laos Dang Tuyet Dung said 84 percent of Vietnamese respondents have already shifted to digital payments, paving the way for the country to become a cashless society by 2030.
Online shopping and payments have become highly popular since the outbreak of the pandemic, helping restrict the spread of infection.
In addition to payment functions, e-wallets have also cooperated with many partners, such as e-commerce floors and convenience stores, to form a widespread ecosystem meeting consumer needs. They can use e-wallets to buy food online, order goods and services from the safety of their homes and enjoy incentives and cash back features from e-wallet providers and partners.
Payment service providers are implementing numerous solutions to promote cashless payments amid the Covid-19 pandemic, such as supporting consumers with more convenient payment tools and strengthening security and safety of their information technology.
The State Bank of Vietnam will continue to complete the legal framework for new business models and products and services on technology platforms, with a focus on cashless payments and a controlled trial mechanism for financial technology activities (Fintech) in the banking sector. In particular, the central bank will coordinate with relevant ministries and departments to pilot the use of telecommunications accounts to pay for low-value goods and services (Mobile Money). Strengthening security and safety of the information technology in the banking sector and protecting the legitimate interests of customers will also be underlined.
Source: VEN
Same category news