Vietnam's real estate market enters a sustainable growth trajectory
Van Dat
Friday |

04/29/2022 11:34
---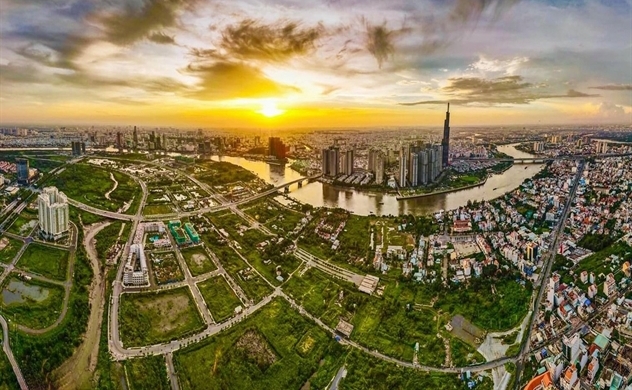 Photo: batdongsan.com
With recent crackdowns on real estate and securities firms, the government has proved a strong determination to put the real estate market on a sustainable growth trajectory.
After years of growth, the real estate market is facing a new challenge when the government began to take drastic action to put the market on a more sustainable growth trajectory. 
That is a series of crackdowns on the real estate market, starting with the arrest of former Chairman of FLC Group Trinh Van Quyet for manipulating stock prices. FLC is a well-known real estate investment group with apartment and resort projects, besides construction and financial investment.
Right after the Quyet's arrest, leaders of Tan Hoang Minh Group were investigated for fraud and appropriation of assets. The arrest of Tri Viet Securities JSC and Louis Holdings leaders for alleged stock market manipulation also left a shock to the market. 
Some large enterprises involved in the legal round include Thuduc House, Tin Nghia, Nguyen Kim. The government has shown a strong message in fighting against corruption, especially in corporate bond issuance, securities, and real estate.
Experts said that the crackdown was a good signal for the market to grow in a sustainable way in the future. The real estate market has experienced a period of stable development with a price increase cycle lasting nearly 8 years since 2014. 
The overheating development in recent years has left a great impact on many segments of the market, especially housing and tourism - resorts. In Ho Chi Minh City, a series of projects stalled because of capital bottlenecks or fell into a legal spiral. 
It is understandable for people to look into recent happenings and worry about the spill-over effects on the real estate market. However, Mr. David Jackson, CEO of Colliers Vietnam, commented that the measures are necessary to stabilize the country's year-on-year growth. 
 
"The government's tightening control over the bond and stock markets, together with drastic changes in administrative procedures, a legal framework recently has paved the way for more healthy and transparent development. Vietnam's real estate market is still considered one of the most attractive in the region," said Mr. David Jackson.  
 
The condominium market in HCM City continued to expand towards the East and the South with a high concentration of new projects in Thu Duc City, District 7, and Binh Chanh District. New projects are located close to main roads in these areas, supplies from the East and the South of the city still dominated, especially projects in Thu Duc City, Colliers Vietnam said in a recent report.
 
"We expect more condominium supply in the next two years, yet higher selling prices are foreseen, given the rising land price, compensation price, construction cost, etc. Supply from an affordable segment, however, is still limited." – said, Mr. Tin Nguyen, Manager of Research and Advisory Services, Colliers Vietnam.
 
Despite the recent government actions on the real estate market, Colliers has a positive view of the market, saying new supply will recover and lead correspondingly improve expected selling units in the next two years. The market is expected to welcome nearly 18,000 newly launched units in 2022, from new developments and the subsequent phases of existing projects such as Grand Marina Saigon, Grand Manhattan, Lancaster Legacy, Vinhomes Grand Park, Metropole, Masteri Centre Point.
 
The landed properties market is expected growth and focus on Thu Duc City, Western and Northern Districts, the ready-built villa, and townhouse markets will be mainly concentrated in Thu Duc City and Nha Be District. 
 
Newly launched projects are expected to be on a larger scale over the next three years. Interest in the land plot market has recently focused on HCMC's vicinities such as Long Thanh, Nhon Trach Districts of Dong Nai province, and Ben Luc District of Long An province, where there are many important infrastructures that will soon be deployed or approved to deploy, according to Colliers report.  
 
Explaining the positive outlook, Mr. David Jacson said the timely and decisive measures will help Vietnam gain investors' confidence in the long run. Vietnam has been regarded highly for its effective control of the pandemic as well as the opening up of its border for international trade and tourism. 
 
Vietnam's government has been investing heavily in infrastructure and attracting a steady inflow of FDI. Projects for ring roads and highways are going to be deployed, new industrial parks are being approved, most recently two IPs in Ben Luc district and Duc Hoa district in Long An province. All these infrastructure developments will open up new markets and hence more opportunities for growth in Vietnam real estate, he added.
 
The real estate market in 2022 is facing an unusual start for more sustainable growth. The hot bull cycle could enter a major correction. The adjustment will create shakes, and eliminate unhealthy factors in the market.