Vietnam, regional countries to see real estate market recovery this year: Cushman & Wakefield
Tuong Nguyen
Friday |

04/14/2023 10:41
---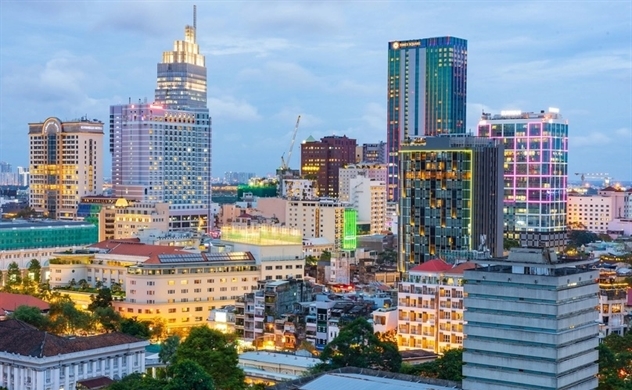 A corner of the central business district in Ho Chi Minh City, southern Vietnam. Photo courtesy of Cushman & Wakefield.
The property markets in Vietnam and other Southeast Asian countries are poised to rebound in 2023 and perform strongly in the decade ahead, according to Cushman & Wakefield's latest study.
The region is expected to be one of the leading sources of growth for the global economy, with an average growth of 4.7% in 2023, close to pre-pandemic average growth rates of about 5% annually, says the real estate services firm's Southeast Asia Outlook 2023 report.
The key drivers for this rebound include China's post-pandemic reopening, expected to serve as a boost to Asia Pacific with Southeast Asia being a major beneficiary, and result in stronger trade growth across the regional economies, including Vietnam.
"While the pace of economic growth differs across the markets, the entire Southeast Asian economy is huge and has the third largest population after China and India," said Anshul Jain, Cushman & Wakefield's head of Asia Pacific tenant representation and managing director in India and Southeast Asia.
"Benefitting from current global trade trends and geopolitical environment, Southeast Asia offers a wide spectrum of investment opportunities as a fast-growing region," he noted.
In 2023, despite the gloomy global economic outlook, Vietnam's economy is still expected to maintain stable growth as GDP growth is forecast between 5.9% and 7.3%, according to Cushman & Wakefield. However, caution and uncertainty remain the general sentiment coming from various anticipated challenges such as the nation's reliance on trade activity with global partners, increasing inflationary pressure, and tightening monetary and fiscal policies in many countries.
In terms of real estate in Vietnam, demand in the Ho Chi Minh City office sector is expected to trend higher in 2023, albeit at a slower pace, especially for high-quality buildings in prime areas.
Recent legal revisions and market incidents have caused delayed completion of some future supply at prime locations. New business hubs are in development outside the central business district, moving toward the south (District 7) and the east (Thu Duc city) where new Grade A projects are distributed or expected to complete within the upcoming years.
"Investors should keep an eye on the developing legal framework of real estate and enter the market via joint ventures with well-established domestic developers," said Cushman & Wakefield Vietnam's country head Trang Bui.
In Hanoi, with limited space left in its central business district, new business hubs under development have increased in popularity among developers and tenants. Expected new projects in upcoming years are also distributed in non-CBD areas, especially in the western urban districts, the firm said.
High-quality supply in Hanoi that can satisfy large-scale lease demand becomes a more favorable option for companies that consider and can afford expansion.
"Interested investors should look out for the upcoming revision of the Land law, as well as focus on developing high-quality projects that can attract tenants and deliver higher potential for returns on investment," it noted.
For the industrial sector, southern Vietnam is being positioned to become a new production hub, with rising land rents and land use costs making ready-built factories likely to become the preferred asset class in the near future.
Meanwhile, the north has recorded interest in the ready-built warehouse model. Despite the downward projections for industrial real estate growth in 2023, due to the effects of inflation and economic uncertainties, investors looking for opportunistic strategies should consider this period as there are many divesting assets to acquire and to prepare for the incoming market expansion.
For residential purposes, the ultra-luxury and luxury sector in HCMC recently observed an oversupply, with a slowdown in both demand and market sentiment, the property services firm said.
Due to the government's credit control on Vietnam's real estate industry, rising interest rates, legal issues at projects, and corporate bond issuance tightening, Hanoi's residential market is expected to experience a downtrend in 2023. However, segments close to real housing demand such as mid-end and high-end still received high attention in the market.
At a workshop held by The Investor on April 7 to discuss measures to unleash domestic and foreign capital flows into the Vietnamese ailing property markets, experts and business representatives said a market recovery was expected to come in the fourth quarter of the year, following a series of supporting solutions introduced by the government.
Vietnam's GDP growth might slow down to 5.8% in 2023 and then rebound to 6.9% in 2024, among the highest figures in Asia, the International Monetary Fund said in its April edition of the "World Economic Outlook".
The IMF stressed that global foreign direct investment (FDI) is becoming more responsive to geopolitical factors, indicating that "FDI is increasingly concentrated among countries that share similar geopolitical views."
Source: The Investor