Understanding the differences between branded apartment, serviced apartment and luxury apartment
Van Dat
Monday |

07/05/2021 08:00
---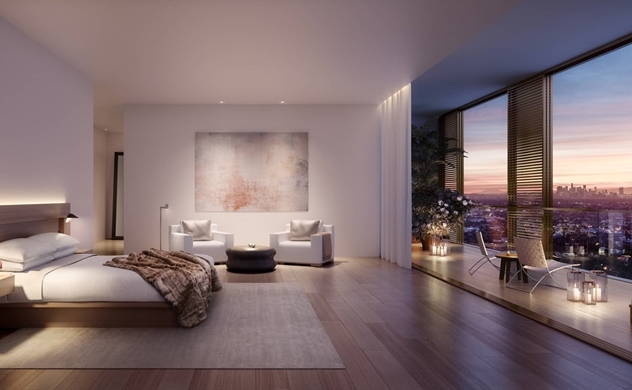 Artist's impression of a branded residence at Grand Marina, Saigon. Photo: Masterise Homes
Branded apartments and serviced apartments are licensed brands and operated by respectable hoteliers, according to Mr. Gautam Bhandari, Regional Vice President, Hotel Development, Asia Pacific, Marriott International.
Could you identify the similarities and differences between a branded apartment and a serviced apartment as the CEO of a hotel group that oversees 30% of the world's branded housing projects?
One thing that branded apartments and serviced apartments have in common is that both forms of real estate are branded and managed by a renowned hotel operator. There are, however, distinctions between these two sorts of attributes. We should understand that a serviced apartment is just an accommodation facility that serves the long-term stay of visitors on extended business trips or who need to remain temporarily before converting to a new residence.
This sort of apartment is often constructed in the city center and is owned by a person or group. We are unable to purchase a serviced flat in a complex. The owner of this property normally hires a respected hotelier to manage, operate, and accommodate visitors for at least a few weeks. The hotel operator usually brands the serviced flats after signing the contract.
Branded apartments in the ultra-premium residential market are the result of a collaboration between a recognized real estate developer and a recognized hotel operator. Branded resident flats, as opposed to serviced apartments, are offered to end users to meet people's long-term living demands.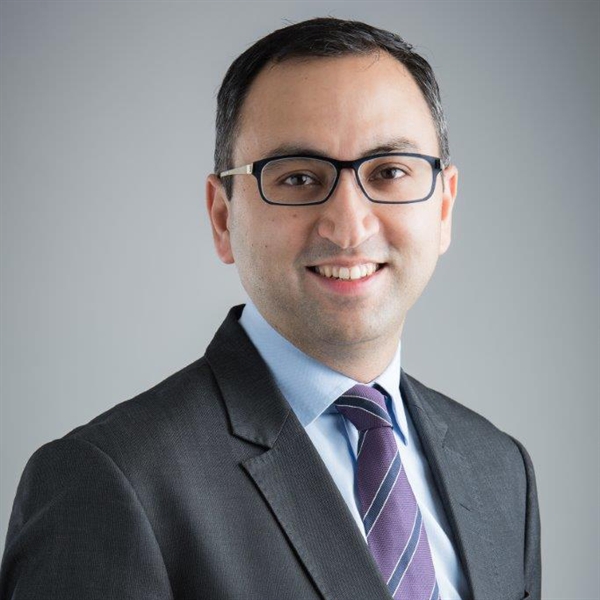 Mr. Gautam Bhandari, Regional Vice President, Hotel Development, Asia Pacific, Marriott International
A recognized hotel operator verifies the brand, regulating design and construction quality, as well as maintaining and operating flats in accordance with worldwide standards. Hoteliers always engage in the design process and offer ideas to guarantee that the project is created and run in accordance with their brand's standards. As a result, branded apartments provide inhabitants the services of 5-star hotels, if not more.
Thus, apart from the intended clients, there is another distinction between serviced apartments and luxury flats. A serviced apartment project is owned by a single person or organization, whereas a branded apartment project is owned by a group of people.
Is there a difference in the style and quality of serviced apartments and branded flats?
If maintained by a hotel operator, the serviced apartment will adhere to the brand's style and standards. Serviced flats provide all of the facilities of a hotel.
Meanwhile, branded residences must adhere to the hotel operator's requirements and design in order to be certified. Apartments in a branded homes project are completely furnished and include zones with high-end facilities similar to those found in any luxury hotel in the world.
There is still some misunderstanding about the difference between a branded flat and a luxury flat. Can you explain the fundamental distinctions between these two sorts of properties?
Clearly, there is a distinction between branded apartments and serviced apartments in terms of clients and owners. There is a distinct distinction between a branded apartment and a luxury flat. A branded residences project is branded and managed by a reputed hotel operator, whereas a luxury apartment project is not branded and is not managed in accordance with hospitality standards.
In summary, a respected real estate developer can build a luxury apartment complex, but it is still regarded unbranded due to the absence of involvement of a recognized hotel brand.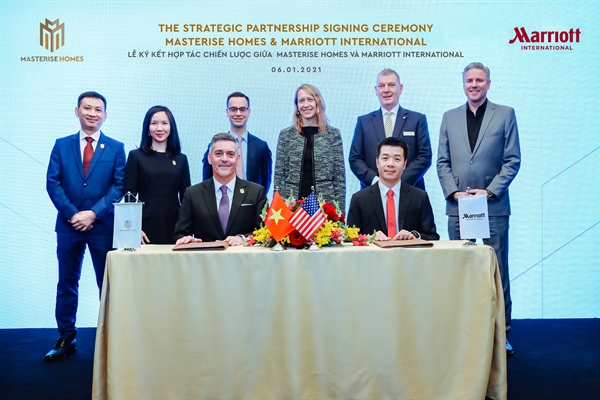 The signing ceremony between Masterise Homes and Marriott International. Photo: Masterise Homes
What advantages do tenants of branded flats enjoy that owners of luxury flats do not?
They will be able to own flats and enjoy a high-class lifestyle in a five-star hotel with exceptional amenities 365 days a year. Residents of branded houses have the option to join an exclusive, like-minded group in addition to living in the city's most ideal location.
Residents of Marriott-branded residences will be regarded as VIPs not just at their houses, but also at the 7,600 Marriott locations worldwide. This is our way of saying thank you to the owners for their faith in our brand.
The Marriott branded apartment has made its official debut in the Vietnam market with the world's largest project. Could you explain why Marriott teamed up with Masterise Homes to construct this project?
Masterise Homes is a relatively new real estate developer in the Vietnamese market, but it has already established an impressive track record. This firm has created a diverse range of real estate developments in Vietnam.
One of the main reasons Marriott decided to work with Masterise Homes is that this firm has a land bank with exceptionally advantageous sites in major cities. This is a prerequisite for the creation of branded real estate developments. Masterise Homes likewise has a strong worldwide vision and an aggressive expansion strategy. These circumstances compel us to collaborate in order to grow the luxury real estate category in the Vietnamese market.
What role does Marriott International play in the Grand Marina branded homes project?
The Marriott and JW Marriott brands help us spread the word about the project. In addition, we give the project developer with sales and marketing materials. More significantly, we offer design and construction consulting services to guarantee that the quality of our goods and services meets our brand's global standards. This will result in long-term cumulative value for the owners of the flats.
Following the completion of the project, Marriott International will manage and run the Grand Marina, Saigon complex with the ultimate goal of building a community of inhabitants of the same level and like-mindedness.
What is Marriott's goal with this collaboration?
Marriott International, a 93-year-old hotel business, is the world's largest hotel operator, with over 7,500 hotels and resorts. In 132 countries and areas, we have 30 brands. We have over 800 hotels in the Asia-Pacific area. Marriott owns 9 hotels in 5 cities in Vietnam, totaling over 3,000 rooms. In this market, we are establishing 25 hotels.
The Vietnamese market is very important to us since it is a rising, dynamic market with a lot of promise. The economy here is rising quickly and steadily, and the population is youthful and affluent. We hope to expand our footprint throughout Vietnam through our relationship with Masterise Homes.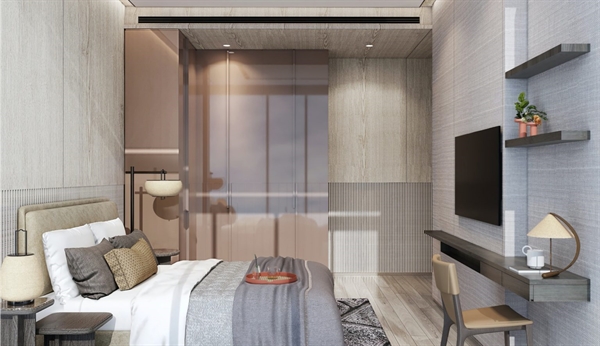 Artist's impression of a branded residence at Grand Marina, Saigon. Photo: Masterise Homes
Could you please give your thoughts on the future development trend of luxury real estate?                           
Marriott is now the market leader in branded homes. Marriott has over 20 years of expertise in this field and presently runs 102 branded apartment complexes worldwide, making us the world's largest operator of branded apartments.
Unlike in the past, when branded apartment projects were coupled with a hotel in one building, the next trend will be stand-alone branded housing developments. The Grand Marina project in Ho Chi Minh City's District 1 will be created as a standalone branded homes project.
Thank you very much