Santorini masterpiece on the most beautiful avenue of Vung Tau downtown
Ngoc Khue
Thursday |

09/23/2021 15:13
---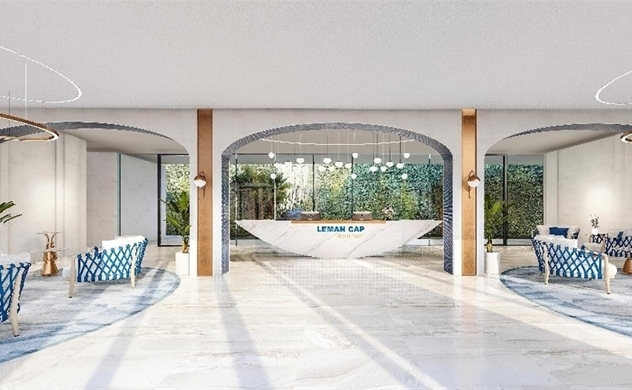 Léman Cap Residence – a diamond at the most expensive luxury boulevard in the coastal city of Vung Tau
Léman Cap Residence has taken inspiration from paradise island Santorini in Greece to bring the Mediterranean breath to Ha Long street, the most beautiful avenue in the coastal city of Vung Tau.
Project inspired by Santorini Paradise, a destination of Hollywood stars
Santorini is a mainstay on the list of Top 10 paradise islands by the famous American Travel + Leisure Magazine. The island has also been voted as one of the Top 20 most expensive vacation destinations in the world with five-star luxury resorts. It is apparent why many famous Hollywood stars choose Santorini for vacationing.
Rumor has it that "Mrs. Smith" Angelina Jolie once bought a villa right on Santorini island for annual vacations. If you ever get lost here, you will most likely come across Tom Hanks and his wife, Shakira and Pique, or basketball player Michael Jordan. Music star Justin Bieber has also been to Santorini to enjoy the delicious food and wine. The island's famous specialty is made from grapes grown on the volcanic mountains.
Santorini has always been an irresistible magnet with its characteristic Cycladic architecture, an integral part of the Mediterranean culture. Cycladic architecture is famous for its uniqueness and charm, providing the islands with minimal aesthetics but with a daring style. The most prominent characteristic of this architectural style, are the white washed cube houses built next to and on top of one another.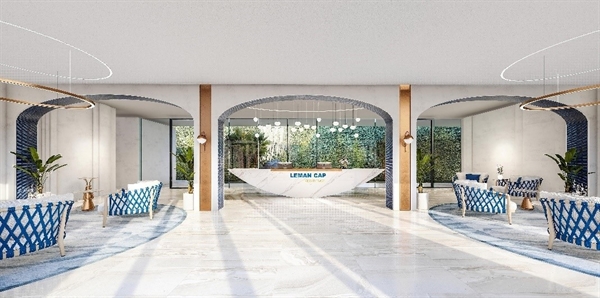 Léman Cap Residence – a diamond at the most expensive luxury boulevard in the coastal city of Vung Tau
Visit Léman Cap Residence – a diamond at the most expensive luxury boulevard in the coastal city of Vung Tau
Visitors looking for a taste of Greece need not go that far anymore. Léman Cap Residence now captures the essence of the paradise island Santorini in its design and architecture. Travel lovers can now visit the made in Vietnam Santorini to admire the beauty of the island on Ha Long Street in Vung Tau.
Ha Long is the most bustling street in Vung Tau with well-developed transport infrastructure surrounded by thousands of five-star entertainment services. Along the avenue lie many famous tourist attractions such as Front Beach, Pineapple Beach, Nghinh Phong Cape, Bai Dau and Bai Sau tourist areas, which welcome millions of tourists every year.
Just a few minutes walk from Léman Cap Residence apartment to Ha Long Street, you can easily access a variety of branded shophouses, specialty restaurants, entertainment services, temples and churches, which are the cultural symbols of Vung Tau. Being located on the central route of the city, visitors can reach other areas quickly and easily via Long Thanh International Airport, Ring Road 4 connecting Vung Tau with the western region, as well as many other highways.
The masterpiece Léman Cap Residence fascinates with its unique Santorini architecture with characteristic white and blue colours. The project offers remarkable and unique ocean views while leaning against the green hills. A forest in the middle of the busy street, Léman Cap Residence is a separate resort complex with green nature, blooming flowers and chirping birds all year round.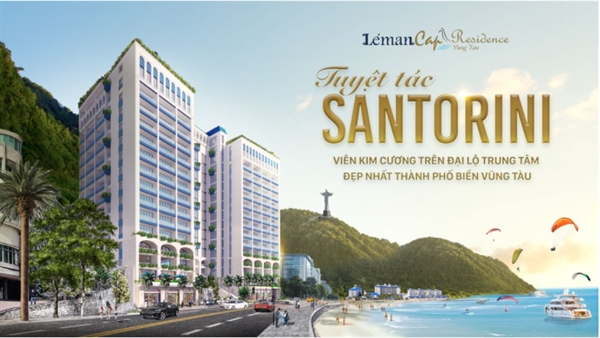 Léman Cap Residence is located in Ha Long street - the most beautiful central avenue in the coastal city of Vung Tau
Léman Cap Residence will leave impression on people with its beauty. Léman Cap Residence is a unique Santorini masterpiece with the immense blue sea in front and the fresh green mountains behind. Meanwhile, the surrounding areas are bustling and colourful entertainment complex.