Real estate firms seek to adapt and thrive in the "new normal"
Van Dat
Friday |

07/23/2021 08:51
---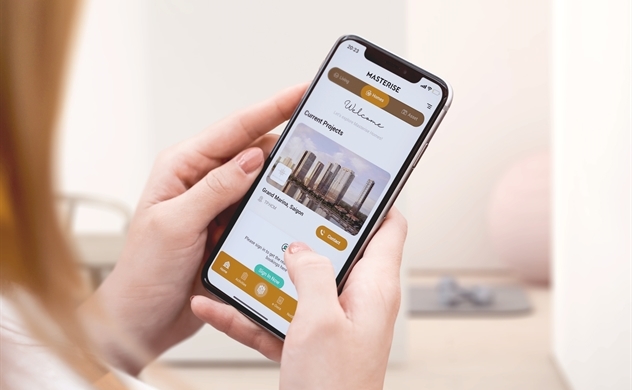 Masterise Homes' upcoming mobile home buying app.
When the current strategy turned outdated and unsuitable to the new conditions, change needed for further sustainable development is a challenge that most real estate developers have to overcome.
Despite the complicated development of the COVID-19 pandemic, the housing market in Ho Chi Minh City and Hanoi recorded encouraging results in the first half of 2021.
In the primary market, the number of successful transactions rose by 28% in HCM City and 20% in Hanoi. In the reported period, more than 7,900 newly-built apartments were sold in Hanoi, 10% higher than the same period last year, according to the latest data CBRE Vietnam.
The results proved the recovery of the market. Both developers and homebuyers have adapted well to the new market conditions, CBRE commented.
The pandemic has been motivating the industry insiders to have better solutions to adapt and develop. Vietnamese developers are facing two choices: change or die. When the outdated strategies are no longer relevant during the pandemic, adaptation and innovation are among the most difficult challenges most real estate developers have to solve.
Plan for sustainable development
The impact of the COVID-19 pandemic forced local realtors to develop strategies to adapt to the new business environment, said Jason Turnbull, Deputy General Director and Chief Financial Officer of Masterise Homes.              
"As soon as COVID-19 was reported in Vietnam, Masterise Homes developed an adaptation plan mapping out a roadmap for both internal operations and strategy to coordinate with partners, customers. Hence, our business activities have been carried out as planned," said Mr. Jason Turnbull.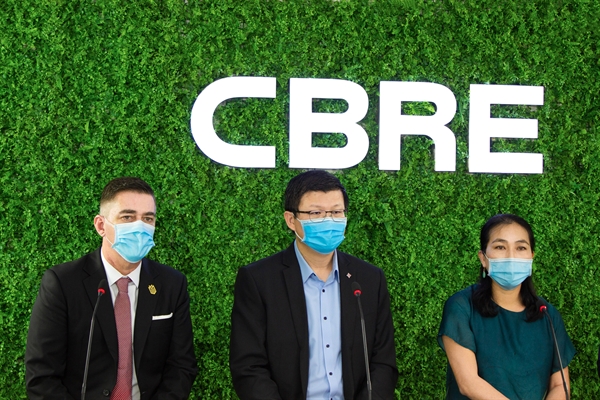 Mr. Jason Turnbull, Deputy Managing Director cum CFO of Masterise Homes (L), speaks at CBRE Forum 2021
Developing branded residences, a type of property that is resilient against economic downturns and crises, including the COVID-19 pandemic, is among the strategies helping Masterise Homes stay adaptive in the "new normal" condition.
With a better ability to stay resilient against crisis, branded residences has been among the priorities of Masterise Homes' business development. Several branded apartment projects have been under construction in Hanoi and Ho Chi Minh City. History has proven that through many downturns of the global economy, the real estate segment still retained its sustainable values.
The COVID-19 pandemic cost the global economy nearly $4 trillion, equivalent to 4.5% of global GDP in 2020. However, the branded residence segment maintained a sustainable growth rate with over a hundred new projects put into operation in the past year.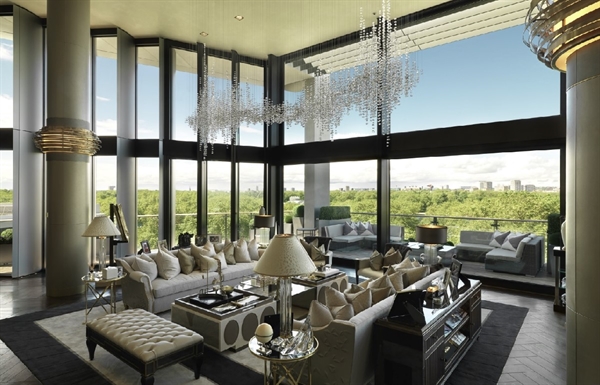 Despite the epidemic, a luxury penthouse atop One Hyde Park is still being offered for sale for $247 million. Source: C&C
According to a survey conducted by Knight Frank in 2020, price of prime properties in major cities around the world increased, higher than expected. Global Development Report 2020 also stated that the COVID-19 pandemic has highlighted the advantages of branded residences.
"With premium standards of hygiene, safety, branded residences should always have a sustainable value which is the resilience against all of the crisis," according to Mr. Jason Turnbull.
Moreover, as Work From Home is forecasted to continue even after the pandemic is over, people tend to invest in a better home with facilities to work remotely. A house then is not only a place to live but also a well-equipped place to work.
Digitalize property sales
One of the most notable trends of the real estate market is the adaptation to the "new normal" and new sales solutions through the online platform have been introduced, according to Masterise Homes.
In the first half of 2021, the local property market appeared many outstanding solutions that enables customers to easily buy a new house, providing the optimal house changing experience.
With the Home For Home solution, customers can shorten their journey in buying and moving to a new apartment. Pandemic has also stimulated the development of the cashless transaction in property exchange through live stream. Mobile phone application integrating the entire process of real estate transaction has also been popular.
Facing social distancing and travel restrictions, Masterise Homes plans to launch a new mobile application, allowing customers who want to buy houses to get information about the project and work with sales executives from afar. The application enables buyers to choose an apartment, make a reservation, deposit, and use electronic signatures for the contract and proceeding payment.
Many real estate developers are urgently applying digital transformation to adapt to changes in customer behavior. All players in this industry need to meet higher standards as health and safety become paramount in the new normal.